Motionhouse: Charge at MediaCityUK
Kristy Stott, Theatre Editor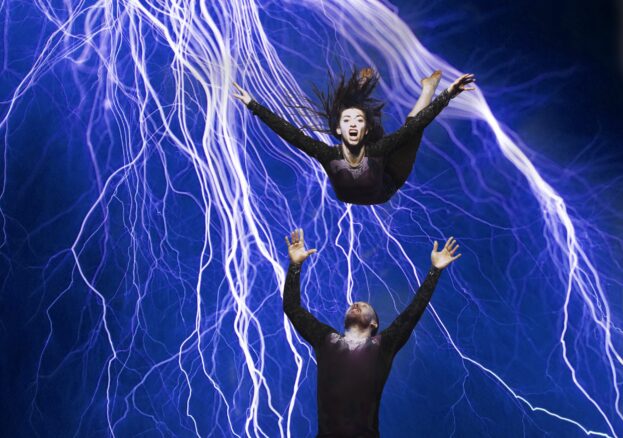 Motionhouse's Charge is a thrilling new dance-circus show which has been inspired by the function of electricity in the human body. In partnership with Quays Culture, this will be the first time that this multimedia show has been transformed into an outdoor spectacular. Performed at MediaCityUK's Piazza, this is an exclusive opportunity to witness a world-class performance company in action – an experience that is FREE for all to enjoy.
Motionhouse are front-runners in creating productions which seamlessly fuse breathtaking physicality and powerful storytelling with incredible digital backdrops and evocative soundscapes. Always taking their inspiration from shared human experience and our impact and connection to the world in which we live. Recent works by the company have explored the pressure of time, fear and captivity, flooding and our relationship with the Earth.
Lucy Dusgate, Creative Producer at Quays Culture says: "It is fantastic to be working closely with Motionhouse again, to stage the first outdoor, large-scale production of Charge. Quays Culture introduces the public to world-class arts that utilise the latest digital technology, and this production is at the very pinnacle of this. We are delighted to be able to bring this monumental, spectacular show to a huge audience, and invite everyone to enjoy it at no cost. We have no doubt that this new outdoor commission of Charge will inspire the audience, even those who are not necessarily familiar with dance."
Motionhouse will be supported by Max Calaf Sevé, a contemporary circus artist who will be performing Anyday, a trampoline and physical theatre piece, at 8:30pm prior to the main event.
With a running time of 70 minutes, Charge sees art collide with science in an exhilarating display of movement and acrobatics – from the first spark of the electrical charge that triggers life to the steady beat of our heart and the memories that we store – this performance traces the incredible story of energy throughout our lives.