Manchester Classic Films/ Heat at Odeon, Great Northern
Tom Grieve, Cinema Editor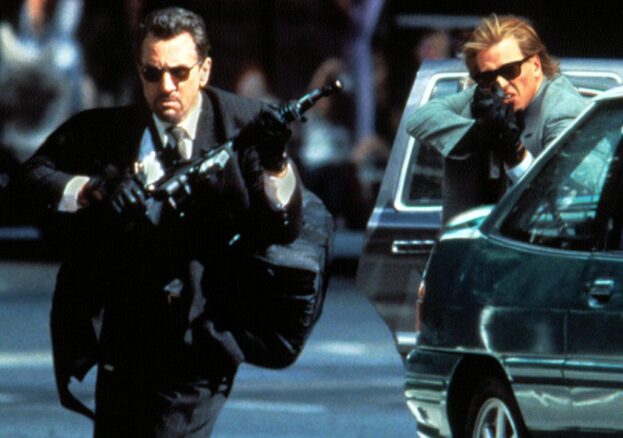 Michael Mann's revelatory crime film sprawls across LA as it zeroes in on a game of cat and mouse between Al Pacino's cop and Robert De Niro's bank robber. Hanna (Pacino) and McAuley (De Niro) criss-cross the bubbling city, as the film makes breath-taking use of the varied freeways, rundown diners and postmodern architecture to depict slick gunfights, robberies and procedural work. But, it's in the tragic, mirrored trajectories of Hanna and McAuley – one a family man drawn out of his collapsing home life, the other a lone-wolf, tempted to abandon his principles for a shot at happiness – where Heat separates itself from its imitators.
Mann is known for his crime movies, with early heist flick Thief setting the tone for a distinct, moody and textured body of existential genre work. As in Heat, these films are characterised by neon-lit cities, professional characters in high stakes situations and an unapologetically earnest romanticism. It's a potent combination: with the director exploring the tension and push-pull allures of domesticity and obsessive, high-stakes work; finding as much energy and feeling in the pull of a trigger as in the embrace of a loved one.
Heat, especially, is notable as proof of the poetic capability of the mainstream Hollywood machine when it is turned over to a director with skill and individual style. Set pieces, such as the hockey-mask freeway shootout or the famously quiet, chess-like diner confrontation, are presented with a hyper-reality; a movie escapism that's rooted in sensory immediateness and emotional truth. Mann's film thrives due to its capacity for exemplary myth-making and detail-orientated specificity. Look at the film's final moments – where Mann holds the shot on Hanna and McAuley holding hands – for a striking example of both.
As always with this kind of loud and rangy epic, it plays best on the big screen. You can catch Heat at Odeon, Great Northern courtesy of Manchester Classic Films on Saturday 27th April.