London Contemporary Orchestra Livestream
Johnny James, Managing Editor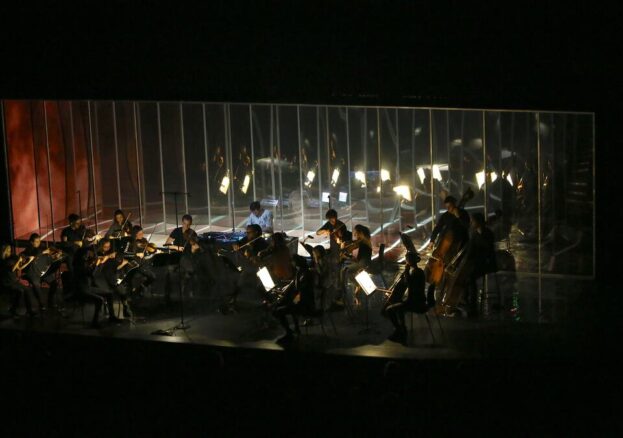 Redefining the role of the orchestra in the modern world, The London Contemporary Orchestra will interpret some of 2020's best electronic releases at the Southbank Centre, where they'll be joined by VOCES8 and Apollo5.
Formed in 2008, the London Contemporary Orchestra has established itself as one of Britain's brightest beacons for new music and cross-arts collaborations. By working with and performing music by artists from across the genre spectrum – from Radiohead to Actress – the LCO offers new audiences a thrilling way into classical music.
On 19 March, the LCO will place its gaze on electronic music released in 2020. The orchestra has been commissioned to reinterpret the hypnotic electronics of Kelly Lee Owens' version of 'Arpeggi' by Radiohead, alongside the immersive poignancy of Duval Timothy's 'Look'.
These meditative pieces accompany the first UK performance of a magnum opus from Sigur Rós guitarist Kjartan Sveinsson. Der Klang der Offenbarung des Göttlichen ('The Explosive Sonics of Divinity') is described by Sveinsson as a 'four-act opera'. This rare first-time performance brings out two major influences on Sveinsson's approach to composition, the natural landscape of his home country, Iceland, and the explosive sounds of Sigur Rós.
The LCO will be joined in this concert by two leading vocal groups – VOCES8 and Apollo5 – who will perform world premiere arrangements of music by two of Iceland's most-loved contemporary artists. We'll hear Ascent by the Oscar-winning composer behind the 2019 Joker score, Hildur Gudnadóttir, as well as 'momentary' by Ólafur Arnalds – both arranged by Robert Ames, the conductor of this concert.
Streaming from the Southbank Centre, this performance is accessible from anywhere in the world, and tickets are available via DICE.