Japanese Television at The Fulford Arms
Johnny James, Managing Editor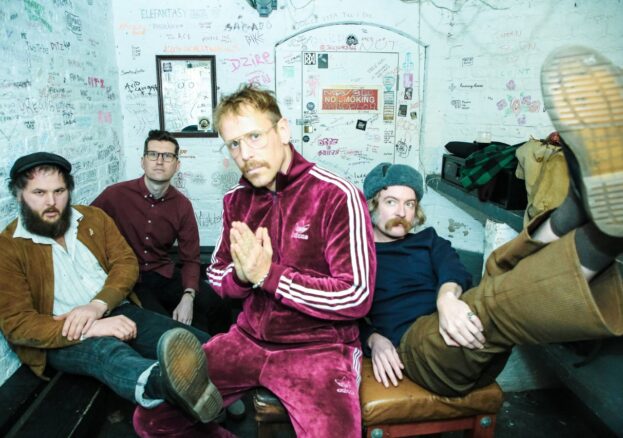 Instrumental four-piece Japanese Television bring their space-surf psych rock to York this November.
From the ashes of three London psych rock bands rose Japanese Television – Al Brown, Alex Lawton, Ian Thorn and Tim David Jones – who bonded over a love for the same esoteric music, from Circle to Neu!, and a shared vision to create a modern psychedelic space-surf sound.
Recorded with Kristian Bell (The Wytches), the band dropped their first, self-titled EP in 2018, when it was named EP of the year by both Gideon Coe and Amy Lame at BBC 6 Music. They followed up with EP II (the highlight being the Krauty, sci-fi odyssey 'Bloodworm') and then EP III (check out the groovy astral trip 'Bee Cage', below). Both sold out physically within a few weeks, the band's motorik space twang earning them plaudits from all the right people ("On a different orbit from everything else" – Steve Lamacq; "An off-piste dream…a wild phenomenon" – Clash).
Following a string of sold out live shows – where this kind of hypnotic and freewheeling music is truly at home – and a session for Marc Riley, the band hunkered down in a cold, dusty village hall in the wilds of Cambridgeshire, and set to work on their debut album. Full of reverb-drenched organ, cosmos-leaning guitars and primal, ritualistic drums, the record marries the primal stomp of early garage bands with later psych oddballs, while offering up its own allure by way of strange instruments and homemade effects pedals.
Standout single and rather cheekily the closing track of the record, 'Bumble Rumble' could soundtrack a 70's sci-fi short about a cat burglar from space, its swirling rhythms and spiky guitar/organ ostinatos drawing us deeper into the story with a can't-look-away intensity. The skittering 'Bruce Willis', with its laser zapping synths, and the baroque-tinged 'Moon Invasion' offer their own adventures, all recorded live to tape. The melodic narrater of these tracks is often Ian Thorn, whose keyboards fill the space in which vocals would usually sit, meaning you never particularly miss them — in fact they'd spoil the flow, distract from the hypnotism.
That hypnotism, no doubt, is best experienced live. York's Fulford Arms is your place to do that on 7 November.