48 Hours Neukölln: Ruby Tingle and LEFT WINTER
Johnny James, Managing Editor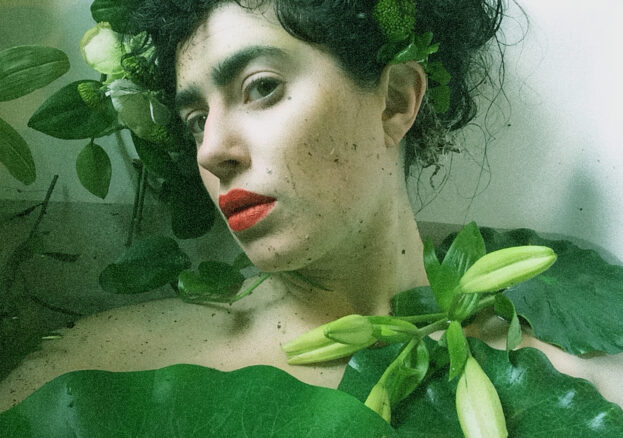 We catch up with No Such Thing Records co-founder Ruby Tingle and artist LEFT WINTER ahead of their one-off performance for Berlin's 48 Hours Neukölln festival, streaming live from Manchester.
Inherently northern, No Such Thing is the UK's newest independent record label. With a commitment to championing diversity through its roster and fusing music with the visual arts, the label is set to challenge the status quo in a time of great industry and societal flux. It was co-founded by Ruby Tingle, a Sheffield-born, Manchester-based musician and visual artist who performs both solo and as one half of electronic bass act, Dirty Freud.
One of No Such Thing's flagship artists is LEFT WINTER, a Berlin/Manchester-based visual artist and composer of electronic, cinematic sounds whose work sits on a foundation of field recordings and sound design. Together with Ruby, he'll be performing as part of a livestreamed No Such Thing label showcase for 48 Hours Neukölln – Berlin's largest free art festival.
Ahead of the showcase, we caught up with both artists to find out more about their practice, the label, and the livestream.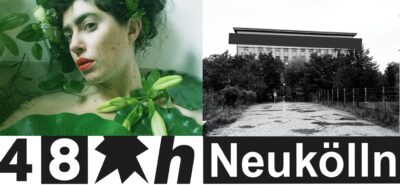 Tell us a bit about yourselves and your artistic practices.
LW:
My work in music is generally composed of field recordings and sound design, but for many years my practice is heavily weighted towards graphic, monochrome photography, often minimalist and sparse and usually with a link to science or the built environment.
I remain inspired by history — the stories of people and places, both real and imagined, past, present and future, fascinate me.
RT: 
I'm a contemporary visual artist and musician working within the genre of progressive electronica. I'm heavily inspired by the natural world, especially herpetology and life that is connected to water. My practice is based around manipulating found material in a variety of mediums which extends into audio and composition. I mix elements of natural sound and high celestial vocals to make work that's dreamy and experimental — I call it 'music from the swamp', as I like to root my songs in a kind of physical space, whether it's real or imagined. I'm based in Manchester and my artwork is represented by PAPER Gallery — I've exhibited with them across the UK and Europe including Saatchi Gallery and Chetham's Library.
Tell us about the new label, No Such Thing Records, and the intent behind it.
RT: 
No Such Thing was co-founded by myself and Danni (Dirty Freud) because we wanted to create an independent label that focused on representing artists from minorities, specifically in the North. We're a non-genre-specific label, so we're releasing many different kinds of music to allow each artist the space to shine and represent their niche, whilst telling their own unique stories. We also want to bridge the gap between the contemporary visual arts and the music scenes in Northern cities and towns, so ongoing collaborations between our artists and conceptual visual  initiatives and programmes is a key factor in our mission. We've already had three releases after our launch in February, and on May 21st our fourth will be from IORA, who has also worked with local contemporary artist Sarah Eyre and dancer Holly Rush on a music video for the single. So it's a really exciting time for us and putting these collaborative plans into action!
How did you get involved with 48 Hours Neukölln in Berlin, and what makes the festival special?
RT:
In the spirit of arts collaboration I wanted the label to present a live showcase that focused more on the multidisciplinary artists on the label, so myself and LEFT WINTER.
I exhibited with the festival a few years ago, and just had the best experience there. The people, artists and everyone involved are so dedicated to creating this incredible atmosphere, you can't turn a corner without encountering art and music! The short duration of the festival makes it really intense, and I think even with an online-focused programme this year, that same passion and sheer amount of content will shine through. The theming of the festival each year also makes the exhibitions responsive and diverse; this year's theme is 'AIR', so I've gone down a more environmental route, but it can extend into much more literal ideas.
LW: 
This festival is a wonderful, highly renowned event in Berlin's annual calendar of art. For Ruby Tingle and I to be involved in this is a huge honour. What makes it so special this year is the theme of 'Air' and how much the notion of sound being carried through air fits so well with our own approach.
What can we expect from your performance on 18th June?
LW:
You can expect an hour of performance between us, so 30 minutes of compositions from me, built from audio recordings taken from the city of Berlin. Abstractions of bells, clicks, escalators, playground ambiance and bird sound layered with melody. Sadly it's not performed from Berlin as originally planned, which would have been fully interactive with its surroundings for us both, but this virus is also carried through air, which made it not possible to perform there, but you can still expect a German boiler suit, a simple relaxed performance of soundscapes interspersed with a collection of images.
RT:
I'll be performing new solo material and other selected songs that talk about my relationship with plants. For me, glass and hothouses are the epitome of romance, almost lascivious, and I'm really interested in how we as humans cultivate the natural for our own observance, whether that's in a lab, tank or diorama.  So the material and the visual content will be very botanical and intimate. Berlin's Royal Botanical Gardens are particularly enticing and the Victoria house with its giant water lilies has informed my video work which will be spliced with the live performance footage.
As artists we have really similar processes but very different outcomes which is why it's important our responses are paired together for this project, to present our unique takes on a city we both have such a strong relationship with.
What Manchester-based music is exciting you at the moment?
RT:
So many! Obviously we are incredibly excited about the artists we are representing- Jaayns, Off Noise, Szou, Left Winter, Kaspa. and Iora. But we also love Oneda, Hanna AShcroft, Lady Sanity and Jamaal Monarch. We've been introduced to some great acts by Manchester-based initiative Proforma, such as Northling, Synda Sova and Vieux, who are all looking at expanding their horizons this year, so there's very vibrant musical times ahead for the city.
What are you most looking forward to about the return of live music?
RT & LW:
The tangible atmosphere, and the people! It's hard work keeping energy in a live stream performance as the audience play such a huge role in how you feel on stage. We both have strong imaginations so thinking about the people watching online on the 18th will fuel the show, but it will be wonderful when we can all be in the same space again.