…in Dark Times at Castlefield Gallery
Polly Checkland Harding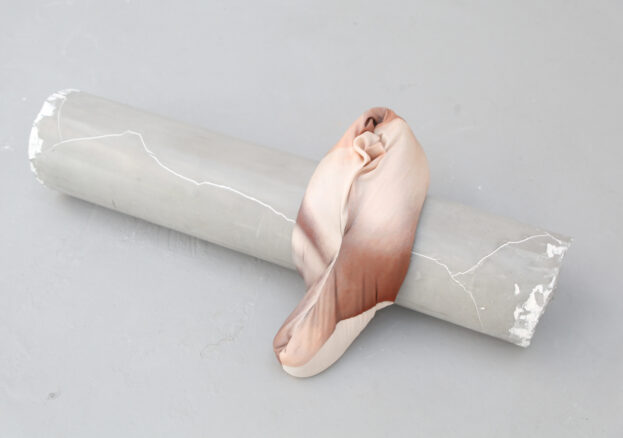 …in Dark Times at Castlefield Gallery thinks about the distance screen based technologies and the online world puts between us and objects. This distance is not simple: transient things in the real world may find second lives online, while certain forms of media draw us away from the direct experience of objects. This exhibition of six contemporary artists features works of immanent materiality, others filled with excess information, disposable pieces that are highly symbolic and enduring works that are difficult to pin down.
Artist Bex Ilsley, for instance, is interested in the performance of self in the digital realm; her works – which construct surreal virtual portraits and video works using fabricated objects, props and locations – echo those of Rachel Maclean in her recent solo exhibition at HOME. Rebecca Halliwell Sutton also engages with the realities of the body as an object, instead choosing visceral physicality as her form of confrontation with the viewer: in her ensembles, strangely flesh-coloured columns of concrete, buffed to the perfection of marble or stone, make a hardened contrast to the soft, sagging weight of fabric bags and cloth printed with bruised tones.
Elsewhere, noble totems are subverted with base materials by James Ackerley, while Linsdey Mendick irreverently mixes cultural references in her displays, placing Botticelli next to The Big Breakfast with all the egalitarianism of Twitter or Pinterest. …in Dark Times, then, promises to be a vibrant, of-the-moment show – and one that, we suspect, will be eminently Instagrammable.