Happy Days at the Royal Exchange
Kristy Stott, Theatre Editor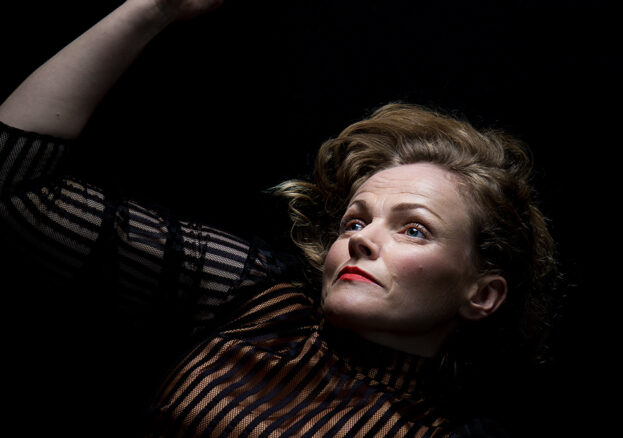 When we heard that Maxine Peake and Sarah Frankcom were to join forces once again – for a new production of Samuel Beckett's Happy Days – we were full of anticipation and excitement.
Beckett's Happy Days is a brilliantly challenging two-hander which will see Peake play Winnie, a woman who is buried waist-deep in a mound of earth, alongside David Crellin as her husband Willie. Crellin most recently performed in The Mighty Walzer at Manchester's Royal Exchange.
Winnie is half-buried throughout the whole of the play – staying put – she is an all-seeing presence. Armed with a toothbrush, her medicine and a lipstick amongst other things, she structures her days with the comfort of routine and survives the everyday with fragments of prattling optimism. Her husband, Willie lives in the shadows of his underground cave – keeping himself out of Winnie's gaze – the couple both anticipate the sound of the bell ringing to bring in another happy day.
Happy days is a life-affirming theatre classic of the twentieth century which seeks to interrogate the complexities of our rapidly changing world. Perhaps the most uncanny aspect of the play is the way that Winnie seems so comfortable with being entombed – which of course, for Beckett signifies the relentless obtrusion of time. Taking on some of the central problems that have fascinated western philosophy – from our everyday struggles to the epic issues of humanity, the relation of past experience to the present, the relationship between mind and body and the strength and limits of the will – makes Happy Days a highly relevant existential masterpiece.
Actress Dame Peggy Ashcroft was reported to have said, "Winnie is one of those parts, I believe, that actresses will want to play in the same way that actors aim at Hamlet". Well, Maxine Peake is one of the few actresses who has already ticked Hamlet off the list and garnered much critical acclaim. We absolutely cannot wait to see what she makes of this truly exceptional role.