Handlooms at Alankar House of Sarees
Kristy Stott, Theatre Editor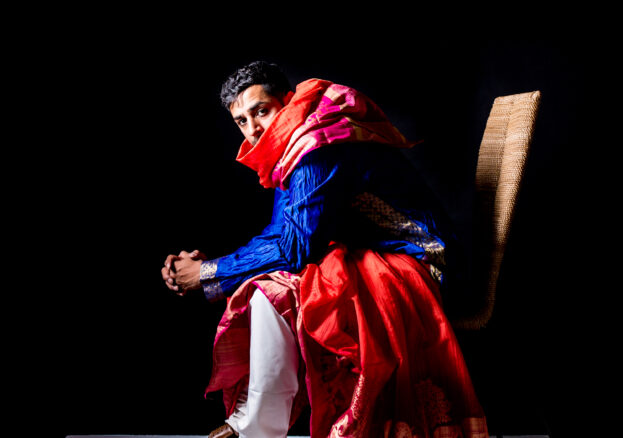 Written by Rani Moorthy and directed by Alan Lane (Slung Low), Handlooms is a unique site-specific theatrical experience which will be performed in the working business premises of the Alankar House of Sarees on Manchester's Curry Mile. Each immersive performance will accommodate just twenty audience members and will be delivered through a dynamic combination of live performance and audio storytelling via headphones.
Rajesh and his mother are facing a crisis in their sari business – Rajesh wants to remain committed to creating unique, handcrafted sari's whereas his mother wants to lead with mass production. With both seeking alternative solutions to save their family business, will they find a way to preserve the rich tradition of the sari?
The show gives an interesting perspective on the rich heritage of the sari and unpicks the idea of the sari from a male viewpoint. Handlooms sets out to challenge the often simplistic and stereotypical assumptions which are made about appearance and migrant life, through its exploration of the sari.
Perhaps most interestingly, the performance invites the audience to understand the male-dominated arena of bartering for fabric, buying and designing and draping the garment onto South Asian women, alongside the modern fashion demands and generational changes that are seeing these rich traditions slowly disappearing.
Artistic Director of Rasa, Rani Moorthy explains, "I was very aware growing up that men sold the sari, dictated what we wore, designed the saris. I was also conscious of the language used when encountering female clients; sensuous, intimate, about the women's body, the drape – the gestures – so contrary to the strict social rules we had between genders in the south Asian community. It took me a long time to understand this was something so unique – and that it was dying out."
Handlooms is the second show in Rasa's sari trilogy, and the Manchester performances form part of In The City, a year-long programme of site-specific performance, as the Contact Theatre undergoes a major building transformation.