Guys and Dolls at the Royal Exchange Theatre
Kristy Stott, Theatre Editor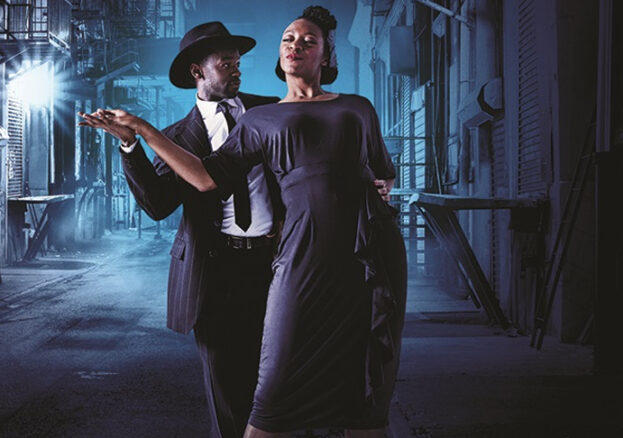 If you're looking to escape the traditional pantomime fare this festive season – the Royal Exchange's Christmas production of Guys and Dolls pleasingly shakes-up the Northern theatre scene and offers a satisfying musical alternative.
The Royal Exchange are working with Talawa theatre company on a new version of the timeless classic. Talawa are no strangers to the Royal Exchange –  they co-produced King Lear to sell-out houses, with Don Warrington in the title role, at the theatre in Spring 2016.
Based on Damon Runyon's off-beat stories, Guys and Dolls is a musical romantic comedy involving the unlikeliest of pairings. Set in a world where a roll of the dice can solve even the most awkward disputes. Every day is an opportunity to hustle – but will the gamble pay off when they try their luck with love?
Guys and Dolls first premiered in 1950 on Broadway and won the Tony Award for best musical. A film adaptation starring Marlon Brando, Frank Sinatra and Vivian Blaine swiftly followed in 1955. A revival of this iconic musical seems to come around every few years or so – most recently Ewan M Director and Jane Krakowski starred in the 2005 London Olivier-Award winning production. Now in this exciting new version, Michael Buffong (Talawa Theatre) has transported the action to 1939 Harlem and the show has been billed as the UK's first all-black cast production of the musical.
The performers have been led through their steps by the award-winning hip-hop dancer and choreographer Kenrick 'H20' Sandy and Frank Loesser's timeless musical score has had an injection of 1930's Harlem. Expect jazz, bebop, gospel and swing versions of the classic numbers Luck Be a Lady and Sit Down You're Rocking the Boat.
If you're looking for a celebratory night at the theatre this festive season – this show should certainly be on your list. Playing out on the Royal Exchange's wonderful in-the-round stage, this is a performance that should not be missed.