Glass fusing at Glassmonkey Studio
Vicky Smith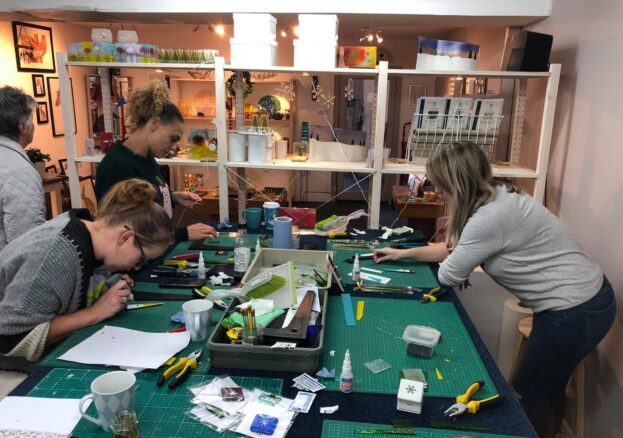 Occupying a unit in Oakmount Mill, complete with one of the chimney stacks so typical of the local landscape, Glassmonkey Studio was founded by affable 'owner, designer, glassmaker, teacher, cleaner and teaboy' Stuart. Fascinated by the fact that something so clear and colourful can originate from sand, he launched the enterprise after learning to fuse glass at home and starting to sell his work. A proper studio and gallery space soon followed, alongside a roster of workshops, and Glassmonkey now offers both a range of bespoke glass items to buy and a variety of fusing classes for all levels and abilities.
These include a half-day taster, in which you will learn the basics of glass cutting and be guided through making fused glass items such as hanging glass decorations and jewellery pieces, as well as a full-day introduction that also includes the chance to make coasters and a wall décor panel. All materials are included for the specified objects.
Tried glass fusing before? Then you can opt for a full-day intermediate class, ideal for those who want to move on to making larger pieces or to experiment on an individual project. Glassmonkey provides a supply of clear glass as the basis, to which you can add glass of your choice from its stock of translucent, opal and fancy finish art glass. Staff are on hand to provide support but you are free to explore your own design ideas for bowls, platters and wall art.
A longer six-week course is also available, split into two-hour sessions. You will be given a 60x40cm sheet of clear glass and the equivalent of 40x50cm of glass in standard colours to complete your project, with additional supplies (as per all classes) provided at an additional cost.
Glassmonkey also offers a silver clay workshop, and gift vouchers are available for all courses.