Fixing a Hole at Stanley Dock
Polly Checkland Harding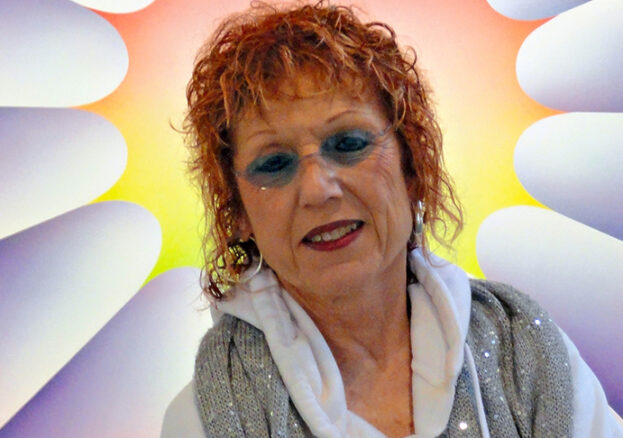 This summer, the artist behind a hugley iconic feminist artwork will be creating a spectacular mural in Liverpool in celebration of the Beatles. Titled Fixing a Hole, the mural is Judy Chicago's largest painting to date; it's part of Liverpool Present Sgt Pepper at 50, a series of 13 specially-commissioned events commemorating the 13 tracks of the Beatles' Sgt. Pepper's Lonely Hearts Club Band album, released 50 years ago in the 1967 'Summer of Love'. Painted onto the walls of the Grain Silo on Stanley Dock, the mural offers a monumental response to the lyrics of track five, 'Fixing a Hole', a song that draws together ideas about sanctuary and imaginative freedom.
It's an artwork that brings the countercultural preoccupations of Sgt. Pepper, which spent a total of 27 weeks at the top of the album chart after its release in June 1967, into the present day; though the album is now a now familiar cultural product, the band's belief in equality and opposition to oppression will be freshly resonant in today's political climate. As an artist who emerged in the 1960s, Judy Chicago is well positioned to draw out these cultural echoes. "In creating this image, I tried to honour the incredible path that took four lads from Liverpool to stardom," she says. The question in the countdown to the reveal of Fixing a Hole is: what approach will an artist who has displayed a continuous commitment to art and feminism over five decades bring to this artwork?
Having rebelled against the male-dominated art scene of the 1960s, Chicago co-founded the women-only Feminist Art programme at the California Institute of Arts, as well as Womanhouse, an installation and performance space dedicated to female creative expression. She addressed the imbalanced representation of historical female figures head-on in her seminal artwork The Dinner Party, a triangular table with 48ft long sides laid with 39 place settings, each designed to reflect the accomplishments of notable women – a piece that is now the centrepiece of the Elizabeth A. Sackler Centre for Feminist Art at the Brooklyn Museum. Chicago's Fixing a Hole should, then, offer a unique perspective on an all-male band whose fame draws almost £82m a year to Liverpool's economy – all will be revealed on 1 June 2017.