Ellie Hoskins: Everything! Is! Futile! at OUTPUT Gallery
Maja Lorkowska, Exhibitions Editor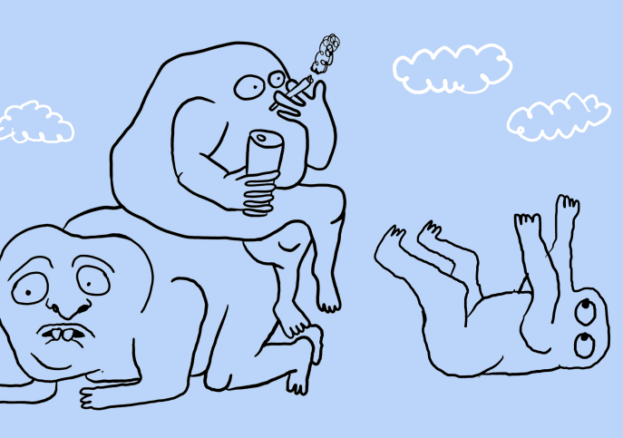 OUTPUT gallery is hosting Everything! Is! Futile!, a two-week exhibition of works by Ellie Hoskins, a Liverpool-based, multidisciplinary artist.
Originally from Cumbria, artist and writer Hoskins is taking over OUTPUT in her first solo show which takes viewers into a world of lumpy figures writhing in laughter and existential angst at the same time. An incredibly prolific maker, Hoskins' style is instantly recognisable in its dry, hyper-aware observation and commentary on the minutiae of life. Often presented in an unrestrained diaristic format, her pieces range from writing, painting, drawing, textiles, poetry, prose and sculpture in various mediums and scales.
For Everything! Is! Futile! she has created an installation of text works alongside sculpture and papier-mâché creatures. Hoskins' appeal undeniably comes from relatability – her pieces draw on the darkest depths of human experience or at least its emotional interpretation – the everyday can become a source of both euphoria and nihilism.
During last year's lockdowns, the artist created a one-year unofficial art school called 'Phlegm' in which she led crits and workshops, gathering artists from all around the country and eventually resulting in an exhibition at Liverpool's The Royal Standard gallery.
Ellie Hoskins – Everything! Is Futile! will have a launch event from 6pm – 8pm on Thursday, 21st July.