Everything Everything: Virtual Re-Animator
Johnny James, Managing Editor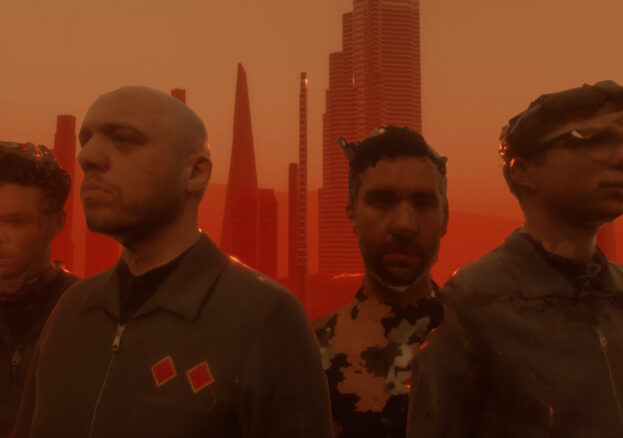 Marking the release of their new album Re-Animator, Manchester's own Everything Everything will live-stream two virtual reality shows this September.
It's hard to believe it's been a full decade since Jonathan Higgs and co released their first album, Man Alive. Thrilling some and confounding others, the four piece's debut interwove math rock with glitchy electronica and bizarro pop – a maximalist sound that separated them from the identikit indie bands of the time, and earned them a Mercury Prize nomination.
Emboldened by their debut's success, 2013's Arc saw Everything Everything inch warily into more mainstream territory. Higgs' elastic voice, pinging from tenor to stratospheric falsetto at the twitch of a Querty Finger, remained delightfully unhinged, but the backdrop was less frenetic, more catchy. Lyrically, mind you, this was dense stuff – a seething critique of the modern world and mankind's self-destruction via riddles and allegory.
2015's Get to Heaven and 2017's Mercury-nominated A Fever Dream were even hookier and now more lyrically accessible, too, with the band taking pointed aim at Brexit, the right-wing media and the absurdity of Trump's presidency. Alas, the same topics are still up for grabs today, though by the sounds of singles 'Birdsong', 'Planets' and 'Violent Sun', Re-Animator will be more an appraisal of the human condition than a prod at the likes of Trump.
Everything Everything will premiere their new album during two online gigs, which will be held in a Sansar-designed virtual event space. Judging by the description on the band's website, the shows will be fittingly weird –  almost like video games, where you can interact with characters from their music videos, wear virtual merch and even fly. Mainly though, we're looking forward to hearing the rest of the album, which feels like it could be a refreshing, mid-career gear change for Everything Everything.