David Nash: Return to the Forest at Grizedale Sculpture in Cumbria
Sara Jaspan, Exhibitions Editor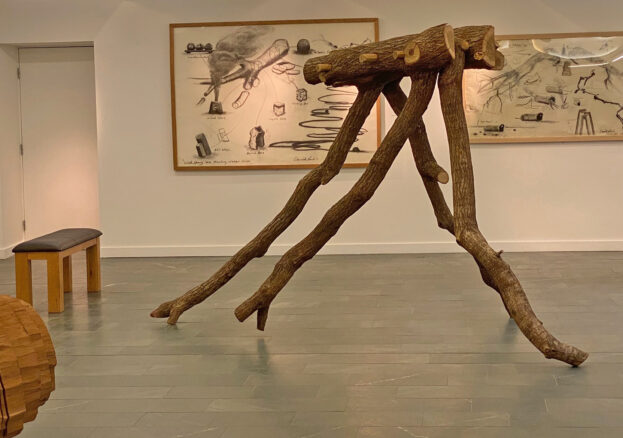 Today, David Nash OBE RA is internationally celebrated for his organic sculptures made from wood and the conditions of the natural environment. His current solo exhibition, Return to the Forest, focuses on a seminal moment nearer the start of his career, however, when in 1978 he undertook a three-month residency at Grizedale Forest, which planted the seed for many of his most important later works. Nash was only the second artist to take part in the Arts Council-funded Grizedale residency programme, which still continues to this day and which helped give Grizedale its name as the first Forest for Sculpture.
Nash elected to begin the residency in February so that he could experience the forest as it emerged from winter into spring. Over 40 years later, he still vividly recalls observing each of the different trees – from larch to oak – coming into leaf, describing how he became "gently drawn into the metabolism, pace and energy of the forest." The exhibition captures the flavour of his days spent there and the principles of respect that he applied during his stay; responding to the sense of place, working from the materials and conditions that the forest naturally offered, and honouring the relationship between the forest and those who helped manage it – calling on their experience of planting, growing, tending and harvesting trees.
Return to the Forest features drawings, films and photographs from during Nash's residency, which in some cases serve as the only record of the work he produced as many pieces have since been reclaimed by the forest over the decades. It also includes a number of his most iconic works, such as The Wooden Boulder (1978 – ongoing), for which he carved a giant boulder from the trunk of a 200-year-old oak and set it in motion down the River Dwyryd in Wales, following its progress and engagement with the weather, gravity and the seasons as time went on.
Nash's wife, the artist Claire Langdown, and his two small children accompanied him on the residency. They lived in a disused house, the older son attended the local school, and they made efforts to integrate with the community. Langdown also produced work during this time and it was an intensely creative and formative period for both. Return to the Forest is an opportunity to experience the work of one of Britain's most respected contemporary sculptors at an exciting early stage in his career, in the setting that helped shape it.