C-o-n-t-a-c-t at Salford Quays
Kristy Stott, Theatre Editor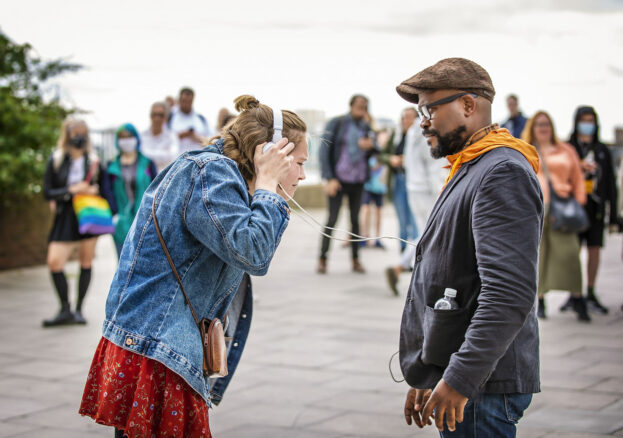 Well here's an inventive outdoor performance that we can all look forward to in 2021. C-o-n-t-a-c-t is an immersive, socially distanced show which the audience follows on foot.
Aria Entertainment and WEF Productions will collaborate with The Lowry to bring this critically acclaimed outdoor promenade performance to Salford and Manchester. The show has already been well received in Paris and London and has been hailed a "gripping thriller" and "pacy outdoor odyssey" by The Guardian.
A live performance inspired and shaped by the coronavirus pandemic.
C-o-n-t-a-c-t is a live performance that has been inspired and shaped by the ongoing coronavirus pandemic. Co-writers Samuel Sené and Gabrielle Jourdain created the piece as a way of reconnecting with their work and with a live audience.
The show was first performed in France during the summer of 2020 – in a world where face coverings and social distancing became the 'new normal'. Timely and touching, the narrative depicts an unexpected meeting between two characters and explores themes of mental health, anxiety and connection.
A young woman called Sarah sits on a park bench. Lonely and lost in her own thoughts, she is approached by a man she believes to be a stranger. She soon discovers that he can hear everything she is thinking. Audiences are invited to dive into Sarah's mind throughout this sensory and visceral theatre experience. Walk the path with the performers – share their sensations and thoughts – watch the action unfold before your eyes.
The show blends live performance with new technology to create a brand-new form of theatre.
This unique theatre experience incorporates a 3D soundscape – audiences will be required to download an app to their phones and listen to the performance on their own headphones.
Running at approximately 50 minutes long, the show blends live performance with new technology to create a brand-new form of theatre, perfectly reflective of the times we are living in.