Brigitte Jurack: What's Left Behind at Williamson Art Gallery
Maja Lorkowska, Exhibitions Editor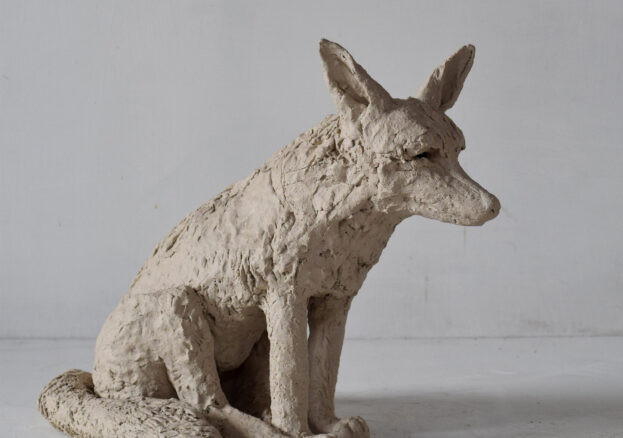 Brigitte Jurack's exhibition at Williamson Art Gallery in Birkenhead has brought with it 'scavengers' to the gallery space but you don't have to worry about them stealing your snacks. The gallery space is filled with sculptural depictions of urban animals – foxes, crows and monkeys.
The artist's solo show What's Left Behind focuses on animals living 'in between', those who pinch, sneak around and run away with their tiny loot. Begun in the quiet of lockdown, the sculptures originate from drawings and watercolours created in Alternator Studio and Project space, a converted bakery in Birkenhead and Brigitte's studio. These, as well as videos, are also displayed alongside the three-dimensional pieces.
Jurack cites Aesop's fables as a key source of inspiration for the show, where animals are sentient beings who help or trick one another, and are generally imbued with human characteristics as metaphors to convey moral lessons to children and adults alike. The artist sees this as out of sync with today's world of industrialised farming, but also as an invitation to see ourselves as part of, rather than separated from the natural world. As well as Aesop, Jurack's work and thinking is influenced by the German theologian Dorothee Sölle whose Credo talks about the need to treat our planet and all its natural wonders as holy.
The artist describes creating sculptures of the animals she has chosen as a form of admiration and adoration, a practice made poignant by our current treatment of the natural world. Because of the contemporary context of the climate crisis, What's Left Behind gains an urgency that goes beyond mere depiction of animals and serves as a reminder that we are undeniably connected to all living things, even when we're seemingly hidden away behind concrete and glass.
Brigitte Jurack was born in Cologne, Germany in 1962. After her studies in Dusseldorf, Glasgow and London she was the Henry Moore Sculpture Fellow in 1993 and she was nominated for the 2014 Liverpool Art Prize. She's currently the Head of Sculpture at Manchester School of Art.
The exhibition is accompanied by a brand new colour monograph of Jurack's work published by Williamson Art Gallery and Manchester School of Art.