Blackburn Festival of Light
Alice Hiley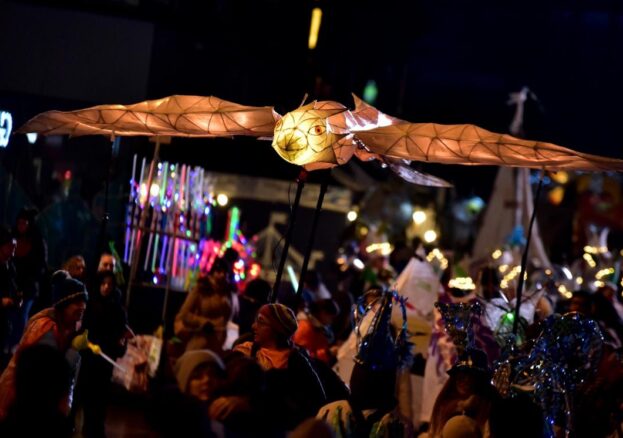 *details provisional
Blackburn Festival of Light is a lantern parade created by and for the whole community. In just five years the festival has gone from a small-scale arts event to a staple in the town's cultural calendar.
In 2021, Blackburn teamed up with festivals across the North to commission emerging light artists to make a new exhibit, as part of the SHINE programme. Further details about the 2022 instalment will be announced at a later date.
The event has a strong carnival feel. When the parade starts you can take part in the carol singing, or stand back and enjoy an onslaught of entertainment, from fire breathers, jugglers and baton twirlers to drummers on stilts, dancers and gymnasts. Have your face painted and grab your glowsticks – people go all out with their costumes! 
Each year there is an impressive range of lanterns, from soaring owls to growling polar bears. There are animated projections illuminating the city's buildings, so you can wander round the town and experience a large-scale gallery. There's plenty of classic festival food to keep you going; warm up with a bag of churros or scoff a hearty burger from one of the stalls. It's all finished off with a grand fireworks display in the centre of town.
Participation is key – Blackburn Festival of Light is full of workshops for young and old, hosted at The Bureau Centre for the Arts. You can make your own lantern to carry in the parade, or create cut-out cityscapes from paper to wrap around a candle. You can even learn to walk on stilts like the festival's professional performers. The festival gets diverse communities to come together, from refugee organisations and local primary schools to young carer groups and nearby businesses. Whether you're a local or from further afield, you're bound to feel welcome.