Big Top in the Park at Prince's Park
Kristy Stott, Theatre Editor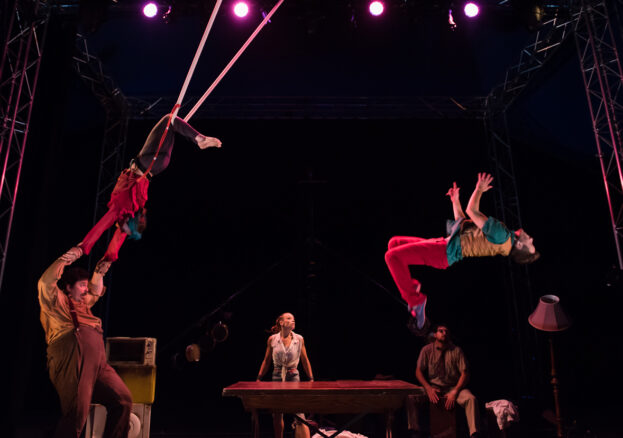 Big Top in the Park is an 11-day-long community festival packed with fun, frolics and laughter for all the family.
The Lowry has joined forces with Lost in Translation to bring the spirit of the circus to Prince's Park in Irlam. Working in collaboration with Irlam and Cadishead Community Festival, which was founded in 1950, the event will bring a Big Top (and some cracking shows) to the community park in Salford. Featuring some brilliant circus, live music, late-night comedy and family shows and activities, Big Top in the Park promises to be huge fun for all ages.
Bringing two of their shows to the Big Top, Lost in Translation Circus launch the festival with Above – a high-flying adventure featuring thrilling aerial stunts and stunning acrobatics. Inspired by Italo Calvino's playful and romantic novel The Baron in the Trees, Above is an enchanting circus fable that takes place high in the treetops. Expect bandits and pirates, love affairs and exhilarating forest adventures. In wonderful contrast, the company also presents The Hogwallops, a chaotic domestic tale about a family of misfits. Crazy and awe-inspiring, watch as the family make a circus-style treat out of the most mundane everyday tasks.
Squash Box Theatre offer a marvellous mix of history and mystery in their slapstick family show, Stones and Bones, and Comedy Club 4 Kids will deliver superb stand-up for the whole family. There will also be live music from The Jalapenos and stand-up comedy (for the grown-ups this time) with some of the finest comedians on the UK circuit at the Big Top Comedy Club.
In addition to the ticketed shows, there are two free workshop events too. From plate spinning to juggling, diablo to slack rope walking, you can try your hand at circus skills with Skylight Circus Arts. Meanwhile, the under 5s and their grown-ups can join a free dance session inside the Big Top.
Roll up. Roll up. There's fun to be had. The Circus is on its way.