Betty Woodman: Ceramics with Painting of the Modern Age at The Cooper Gallery, Barnsley
Sara Jaspan, Exhibitions Editor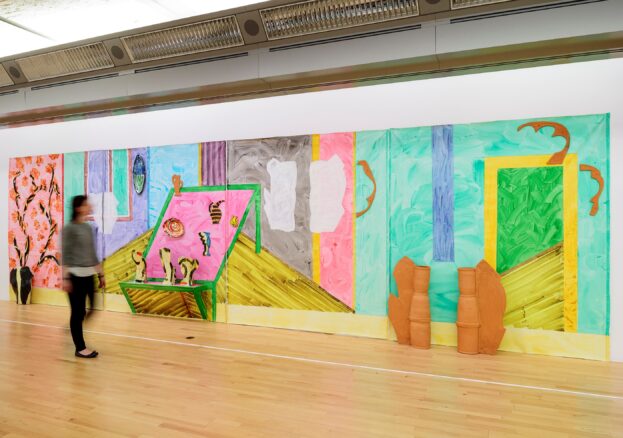 The work of the world-renowned ceramicist Betty Woodman has an unforgettable quality to it. Her pioneering approach brought painting and ceramics together in an unprecedented way, while her embrace of form and colour conveys a sense of pure exuberance, energy and joy. She was the first living female artist to be the subject of a major retrospective at the Metropolitan Museum of Art, and her recent passing on 2 January 2018 at the age of 87 triggered a wave of sadness throughout the art world. As such, a new solo exhibition of her work, Betty Woodman: Ceramics with Painting of the Modern Age, at The Cooper Gallery in Barnsley comes at a very poignant moment.
The exhibition forms part of the Liverpool Biennial touring programme, which showcases artworks by leading international artists, all of which were commissioned and presented at Liverpool Biennial 2016. Woodman's large-scale public artwork – Liverpool Fountain – was one of the highlights of the 2016 festival, with its elegant references to Ancient Greece and the Art Deco design of the iconic George's Dock Ventilation Tower which stands behind it. While her solo exhibition, Theatre of the Domestic (2016), at the ICA in London received extremely positive reviews.
Woodman's output masterfully draws upon a diverse range of cultural and historical sources, from Minoan and Egyptian art to the paintings of Bonnard, Picasso and Matisse; using a variety of materials. One of her chief subjects was the vase, which she explored as a vessel, human body, animal figure, metaphor and art-historical reference over the course of her long career.
Ceramics with Painting of the Modern Age will also feature a 30-minute video created by her son, the electronic artist Charles Woodman, as specially requested by the artist before she died.
Check out the Liverpool Biennial 2018 programme here.