Appleby Horse Fair
Katie Hale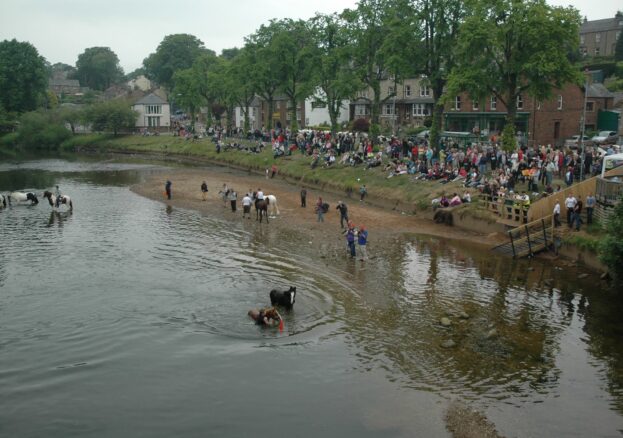 Appleby Horse Fair prides itself on being the largest Gypsy and Traveller fair in Europe. It's a traditional fair, where horses are bought and sold, but for many, it's less like a marketplace, and more of an enormous family gathering.
There's a bit of disagreement as to how long the fair has been going on, but there are definitely records of it happening at the end of the eighteenth century, and today, it's a central event in the local calendar.
Appleby Horse Fair takes place at the beginning of June, and while it technically runs for a full seven days, the main days are Friday, Saturday and Sunday. This is when there's most to see, from stalls, to fortune telling, to the horses being led into the River Eden and washed. You might also see "flashing" on Long Marton Street (or the "flashing lane"), where horses are trotted at speed to show off their quality.
It's also a great occasion for people-watching, too. You may well see people in traditional Gypsy dress, or buskers performing traditional music. Around ten thousand Gypsies and Travellers come from across Europe to take part in the fair, with around three times that many people from the settled community attending as spectators. In a town of around three thousand people, it's no wonder that the Horse Fair is such big news!
During the fair, accommodation in Appleby itself tends to book up at least a year in advance, so if you want to stay over, you'll have to be very organised, or be prepared to travel into the town. It's also quite common, in the days leading up to and following the fair, to see traditional bow-top caravans being pulled by horses on the roads around Appleby, so make sure you leave plenty of extra time to get here.