Maddi Nicholson: a place lived at Hardman Square in Spinningfields
Sara Jaspan, Exhibitions Editor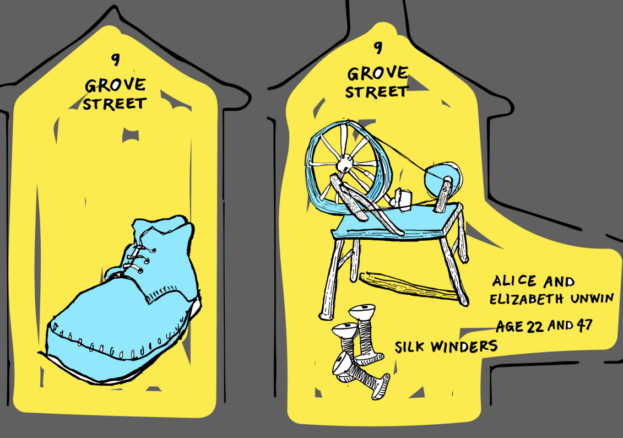 Following a period of major redevelopment that began in the early 2000s, Spinningfields is now an area of Manchester dominated by high-rise glass façade office buildings, luxury apartments, exclusive retail outlets, and innumerable restaurant and coffee chains. As the biggest commercial district in the city and home to some of the largest corporations in the wider region, it has been dubbed the Canary Warf of the North. As you pass through its well-maintained (and monitored) pedestrianised spaces, there's a sense that you could be in any affluent pocket of any major urban metropolis. History and identity swept aside.
Nowhere is without a past, however, and, as its name suggests, Spinningfields is closely woven into Manchester's story as the birthplace of the Industrial Revolution and a global centre for cotton production. During the 18th and 19th centuries, the district became one of the many infamous, densely-packed slum areas that emerged with the influx of factory workers and shocked Fredrich Engels' into writing his seminal text, The Condition of the Working Class in England.
This lesser-known side to Spinningfield forms the subject of a place lived – a new permanent public artwork by Cumbrian-based Maddi Nicholson that will be unveiled at a public preview from 5pm-6:30pm on 19 July in Hardman Square. The piece is made up of a series of hand-painted cast iron sculptures, each based on the actual house that once occupied the spot on which they now stand, and invites audiences to reflect upon the lives of the original Grove Street residents – particularly those of women, including Martha Barry, a 'Washerwoman', Maria Spencer, 'Keeper of the Mangle', and Martha Harrison, the 'Knocker Up'.
A public celebration will be held from 2-5pm on 20 July to mark the commission's launch, featuring the opportunity to hear Nicholson discuss her creative process and attend a free art and heritage walking tour led by Emma Fox (booking essential). An accompanying off-site exhibition of related archive material and research will also go on display in Archives+ at Manchester Central Library from 19 July – 17 Aug 2019, offering visitors the opportunity to delve even further into the stories behind the project.
a place lived marks the third Spinningfields Art Commission and has been co-commissioned and produced by Katie Popperwell and Castlefield Gallery for Spinningfields Estates Ltd.