You Don't Nomi – Streaming on BFI Player
Tom Grieve, Cinema Editor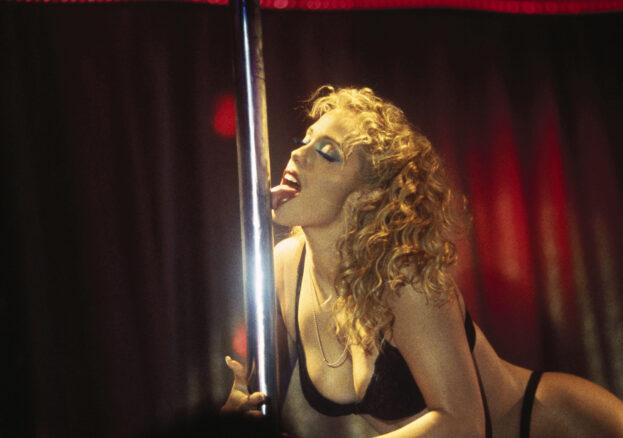 At the time of its release, one headline labelled Paul Verhoeven's Showgirls "Sleazy and Forgettable". The 1995 film from Dutch satirist Paul Verhoeven (Starship Troopers, Robocop) follows Nomi Malone, played by Saved by the Bell's Elizabeth Berkley, as she hustles her way past Gina Gershon's Cristal, to make it to the pinnacle of the topless dancer game in Las Vegas. The film is sleazy, sure, but as the new documentary You Don't Nomi from Jeffrey McHale confirms, it has certainly not been forgotten.
Utilising voices that represent a full spectrum of reactions, You Don't Nomi tracks the timeline of reactions to Verhoeven's multiple-Razzie-winner, starting with early reviews that mocked Berkley's hyper-intense performance (her career was badly hobbled) and the overblown depictions of sex and sexuality. It moves on to the film's reclamation as a "so-bad-it's-good" classic, and its championing by queer communites as a camp classic that has been repurposed as both drag and theatre. Interspersed is commentary from film scholars and critics, who make a case for Showgirls as misunderstood art film.
You Don't Nomi stands as a monument to the complex allure of Verhoeven's film
The most cogent arguments come from Adam Nayman, author of the forensic defence, It Doesn't Suck: Showgirls. In the book and the documentary, Nayman calls Verhoeven's film a "masterpiece of shit", allowing for the overwrought elements, while recognising that they exist intentionally alongside its excellent craft, and as part of a pointed, provocative critique of American society. Nayman's commentary doesn't convince everybody though, and McHale allows for some back and forth with writer and critic Barbara Shulgasser-Parker.
But plenty of films inspire bitter critical battles, not many inspire whole books of poetry. McHale finds moving moments courtesy of writer and actress April Kidwell, who describes the cathartic effect of playing Nomi in Showgirls! The Musical!, and from Berkley herself, who twenty years on from the film's release, is finally able to appreciate the fervour it inspires. You Don't Nomi stands as a monument to the complex allure of Verhoeven's film, and away from the snark and the critical theory, it is these personal stories that resonate and help to keep Showgirls alive.