Wolfwalkers – Streaming on Apple TV+
Tom Grieve, Cinema Editor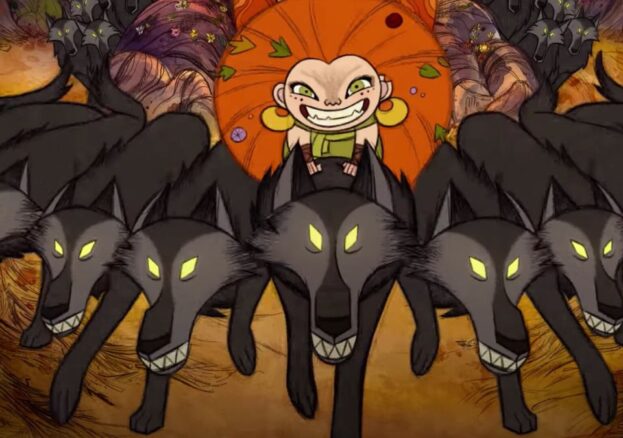 New from directors Tomm Moore and Ross Stewart is Wolfwalkers, a beautifully rendered animated film set in a vision of Gaelic Ireland where remnants of magic and sorceries hold sway in the forests, while would-be English conquerors begin to assert control over urban populations. Against this backdrop, young aspiring hunter Robyn Goodfellowe (Honor Kneafsey) arrives in Ireland alongside her father Bill (Sean Bean), who has been tasked by the tyrant Lord Protector (Simon McBurney) with exterminating a local wolf pack.
Unhappy at being left behind while her father sets to work, Robyn ventures into the local forest where she meets Mebh (Eva Whittaker) and is inadvertently drawn into the world of the wolfwalkers — an endangered tribe who transform into wolves when they sleep. There have been favourable comparisons with the work of famed Japanese animation house Studio Ghibli, in part due to the gorgeous two dimensional style which combines woodcut design and free, expressive hand drawing.
Those comparisons also take into account Wolfwalkers' focus on childhood and fables, as well as its interest in balance in the natural world. Moore is a co-founder of Kilkenny studio Cartoon Saloon who co-produce here with Melusine Productions, and there is a throughline here from his Irish-folklore themed previous features The Secret of Kells and Song of the Sea. Special mention must also go to Kildare's Eva Whittaker, who graces the film with a wonderfully feral performance as troublemaking wolfwalker, Mebh.