Thoroughbreds – Streaming on Netflix
Tom Grieve, Cinema Editor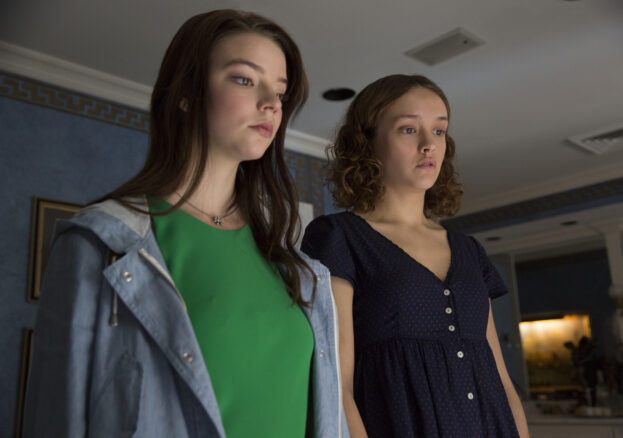 Debut features are seldom so self assured as Thoroughbreds, the first film from playwright Cory Finley. Set in the cold, characterless McMansions of wealthy Connecticut suburbs, Finley's gloriously pulpy tale of rich girls gone bad makes for a slick, and ever so slightly unnerving thriller. Olivia Cooke stars as Amanda, a comically blunt highschooler who confesses to a sociopathic lack of feelings to her wary, yet intrigued tutor; popular girl, Lily (Anya Taylor-Joy). After some pointed sparring, the girls' thoughts wander and Lily, unhappy living under the roof of her domineering stepfather, enlists the help of her friend in plotting the perfect murder.
American psychos are an enduring cinematic obsession of course, but Finley's film chugs along with a certain freshness and polish, owing in part to the novel dynamic between the teens and the stylish, drifting depiction of their milieu. In parts, Thoroughbreds does lean a little too hard on Erik Friedlander's percussive, driving score to keep tensions high, and the script (adapted from Finley's play) could be charged with merely toying with its themes of ethics, wealth inequality and moral responsibility rather than seriously investigating them.
The film is notable for featuring the last performance by the Anton Yelchin (Star Trek, Green Room) before his tragic, accidental death in 2016. Yelchin is terrific as a charming, working class drug dealer who Lily and Amanda try to blackmail into doing their dirty work — who're the police going to believe after all? Meanwhile, Cooke and Taylor-Joy turn in accomplished, charismatic performances suggestive of stars on the rise. Thoroughbreds probably won't go down as a classic of its genre, but make no mistake, this nastily entertaining thriller is well worth a Saturday night.
Thoroughbreds is available to watch on Netflix with a subscription.