The Strokes at Lytham Festival
Johnny James, Managing Editor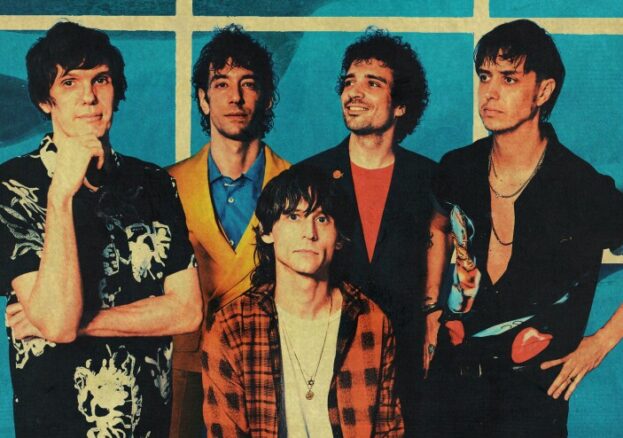 The Strokes, darlings of the early noughties indie rock scene, are heading to Lytham Festival this summer – their only North of England date this year.
Whether or not you subscribe to the idea that The Strokes "saved rock music", it's hard to imagine what the noughties would have looked or sounded like without them. A breathing avatar of New York City, the twin punch of The Strokes' whip-smart garage rock and their perfectly dishevelled, elegantly wasted aesthetic made a massive cultural imprint. Suddenly, bedraggled skinny jeans, vintage tees and bandleader jackets were cool, and so was scuzzy, lo-fi rock – at a time when nu-metal, pop-punk and dad-rock owned the airwaves.
Childhood friends Julian Casablancas, Albert Hammond Junior, Nick Valensi, Nikolai Fraiture and Fabrizio Moretti shot out of the blocks with Is This It – 37 minutes of pristine songwriting that spoke to the possibilities of youth. Recorded in producer Gordon Raphael's tiny basement studio, amid the sleaze of Lower East Side Manhattan's Avenue A, the album oozes after-hours hedonism, with 11 exhilarating yet understated songs about New York, reckless youth, parties, alcohol, drugs, sex and romance. Someday and Last Nite – thinly veiled pop songs – quickly took off, particularly in the UK, and in one swoop The Strokes became the figureheads of a hopeful new chapter in rock music, one that also featured The Libertines, Kings of Leon and The White Stripes.
The slightly sleepier Room On Fire followed two years later, serving up a second helping of irresistibly hooky tracks, propelled by Julian Casablancas's chocolatey croon and the melodic counterpoint of Nick Valensi's zigzagging guitars, which owe a lot to Pixies' Joey Santiago. Things got darker on the underrated First Impressions of Earth, with great but bleak songs like Heart in a Cage an indicator of disquiet, maybe even fracture in The Strokes camp. During the following years, this turned out to be the case. The underwhelming follow-ups Angles and Comedown Machine were marred by intra-band conflicts and various addiction issues, and by the time they released the laboured Future Present Past EP in 2016, it felt like it was all over for The Strokes.
It's fair to say that no-one expected 2020's The New Abnormal. Their first album in seven years, recorded at Shangri-La Studios in Malibu and produced by no less than Rick Rubin, it's the most vital the band has sounded in over a decade. This isn't a classic Stokes record by any means; it's packed with long, winding songs that take vocal and instrumental risks. Lyrically, it speaks to the band's fall from grace, while ironically reclaiming it. "I want new friends but they don't want me" goes the incredibly catchy chorus of 'Brooklyn Bridge', a song led by punchy 80's synths and a disco groove. The 80's vibes continue into 'Eternal Summer', a song about the potentially-irreversible effects of climate change. Its upbeat, Prince-leaning verses and choruses showcase Casablancas' surprisingly strong falsetto vocals, before a dark, heavy section drops in and his old snarl returns, as he sings "They got the remedy / But they won't let it happen" – a claim that those in power are letting the world burn for their own material gain.
'At The Door', the album's most skeletal track, is also one of the best. It kicks off with a single, buzzy synth, with Casablancas singing about being trapped in some unspecified corner, potentially one he backed himself into 20 years ago when Is This It set such a dangerously high bar for The Strokes. The instrumentation expands cleverly on the line "Struck me like a chord', with ghostly synths and twangy rhythm guitar conjuring a blissful depression, before the track moves towards some kind of psychedelic chorale, with manipulated vocals and filigree synth patterns spiralling ever skyward. It doesn't make any sense, but it works.
Sobriety? Renewed friendship? The escapism that various side projects have afforded? Whatever the reason for The Strokes making such a bold and brilliant return, it's a joy to witness, and we can't wait to do so in the flesh at Lytham Festival.