The Nightingale's Song
Sarah Gaffney-Lang, Families Editor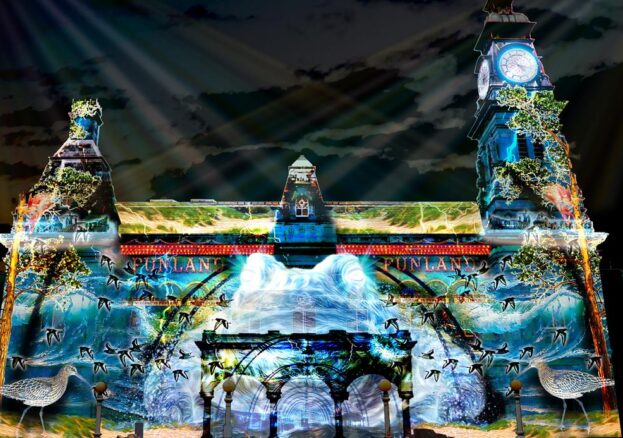 Held over three venues across Sefton, families can enjoy unique storytelling as The Nightingale's Song showcases state of the art video projection in a stunning celebration of the Sefton coastline. Mesmerising for adults and children alike, light installations will illuminate three Sefton landmarks, turning the buildings in to a canvas for tales of magic and wonder, of mythical creatures and of people past and present.
A Nightingale's Song runs over three consecutive nights, creating a trilogy of large scale video projections on the exteriors of Waterloo Town Hall, Bootle Town Hall and The Atkinson, Southport. Each night represents a separate chapter in a magical story that connects the coastal towns and people together, as part of the Borough of Culture programme.
Sefton is Liverpool City Region's Borough of Culture for 2020, and as such is hosting a programme of cultural events throughout the year. The focus of Sefton's 2020 programme is on stories with the theme of 'Myths and Realities' running throughout.
A Nightingale's Song has been produced by Illuminos, video projection mapping specialists, with an impressive portfolio of installations, including a stunning light extravaganza for the Wirral's Borough of Culture year in 2019.
Co-Founder, Rob Vale says:
"Working with local experts and knowledge, the projections are anchored through following the journey of the Natterjack Toad – the endangered amphibian who lives in the Sefton dunes. Known as the Birkdale Nightingale because of its extraordinary night-time song, it becomes the character we follow, symbolising the growth and transition through ever changing stages of egg, tadpole, and toad – three chapters set across the three locations".
Each show will start at 8pm and last around 15 minutes. Big crowds are expected so get there early to join a beautiful and unique celebration of this stunning coastline.
Friday 13th March – Waterloo Town Hall
Saturday 14th March – Bootle Town Hall
Sunday 15th March – The Atkinson