The Mountaintop with the Royal Exchange
Kristy Stott, Theatre Editor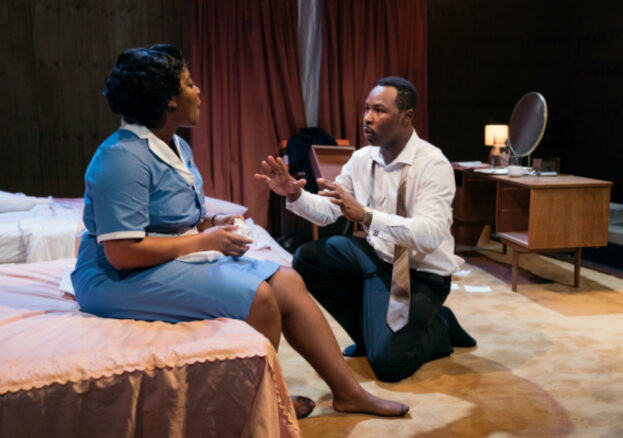 Katori Hall's Olivier Award-winner The Mountaintop, set on the eve of  Dr Martin Luther King's assassination, will be streamed online via the Royal Exchange's YouTube channel.
In 2016, Roy Alexander Weise, now Joint Artistic Director of the Royal Exchange, directed this powerful play at the Young Vic. Now in June 2020, this incisive two-hander will see performers, Gbolahan Obisesan and Ronke Adékoluejo reunited once again.
Set during the height of America's Civil Rights Movement, Obisesan takes the role of Dr Martin Luther King and Adékoluejo plays a maid that he talks to, the night before his assassination in 1968 in Memphis. The pain and rage felt, and the scale of the resultant protests continues right now – right across the world – following the murder of George Floyd in Minneapolis.
Weise said, " We are on the cusp of something that could change the story of humanity and the quality of life for every human being to walk the earth from this point forward. We all have a part to play. As we think on the life of Dr King, may we also think of the lives lost and those sacrificing theirs right now for the lives of all our children and their children yet to come."
Bringing communities together through incisive storytelling and because Black Lives Matter.
The Mountaintop will be streamed for free on the Royal Exchange's YouTube channel on 10 June and will be available until 15 June. Donations are invited, to raise funds to support the legal costs incurred by those incarcerated whilst protesting.
The reading will be introduced by Weise and writer, Katori Hall, who won the Olivier Award for best new play in 2010 for The Mountaintop.