The Killing of Two Lovers at Curzon Home Cinema & Curzon Cinemas
Tom Grieve, Cinema Editor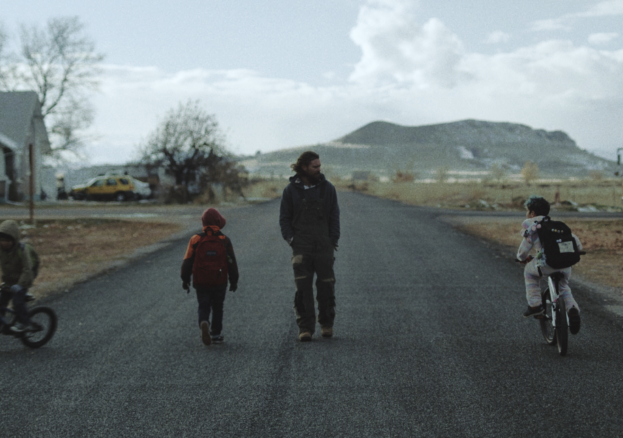 Robert Machoian's new film lays its cards out early. Firstly, there's that title, which hangs heavy over proceedings — calling a film The Killing of Two Lovers provides audiences with certain narrative expectations. Then, there's the opening scene, in which David, the protagonist, points a pistol at the head of his sleeping wife, before the sound of a flushing toilet spooks him and he escapes out of the window.
But this is a quieter, weirder and more surprising film than is immediately apparent. Living in rural Utah, David is estranged from his wife Nikki (Sepideh Moafi) and living with his father. The couple are trying to make things work for the sake of their four kids, but a scheduled date night devolves into an awkward drive around the block and Nikki is already seeing somebody else.
A stocky man with unkempt hair and a bushy, scraggly beard, the film follows David with extended takes as he works odd jobs and desperately tries to connect with his wife and children. Occasionally he takes out his anger on an old boxing dummy. A discordant soundtrack of ominous notes and metallic clanging accompanies everything, matching the landscape, which is stark and cold, punctuated only by a mountain on the horizon.
At 84-minutes, The Killing of Two Lovers sketches its characters efficiently, building in scenes of bleak human comedy — Avery Pizzuto is a highlight as David and Nikki's teen daughter — as it fizzes with violent tension that is often stilted or strangely curtailed. While the film can sometimes lapse into moments of hyper-serious-indie-film cliche, there are enough unexpected turns to leave audiences with something to chew on.