The Genius of Alfred Hitchcock at FACT, Liverpool
Tom Grieve, Cinema Editor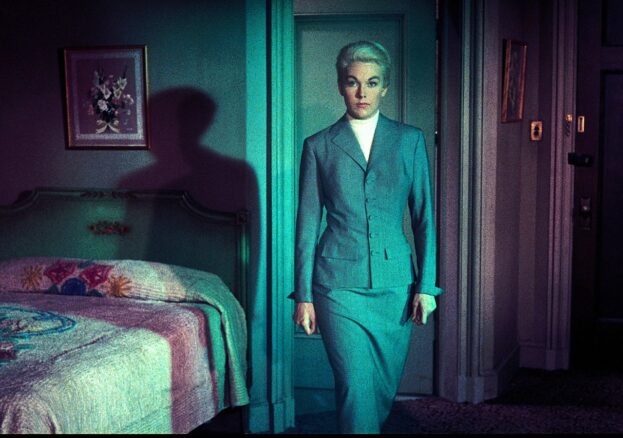 In film circles today, the brilliance of director Alfred Hitchcock is not up for debate, and cinemagoers probably won't bat an eyelid at the title of the six-film greatest hits retrospective that FACT have lined up for this Summer. The Genius of Alfred Hitchcock hasn't always been so obvious though. For much of his career, the Master of Suspense was regarded merely as a superior entertainer, a purveyor of starry thrillers preoccupied with down-and-dirty subject matter. It took until the mid-1950s, and the French critics of film magazine Cahiers du Cinema – the likes of Eric Rohmer, Francois Truffaut and Jean-Luc Godard – to recognise Hitchcock as the artist; to recognise the vivid elegance of his form, the experiments with narrative and structure, and the deeply-rooted thematic obsessions that recur throughout his oeuvre.
London-born Hitchcock directed 53 features over the course of his career, beginning with silent films in the 1920s, before making an early move into talkies with 1929's Blackmail. Throughout the 1930s he produced a series of exemplary British works, including The 39 Steps (1935) and The Lady Vanishes (1938) – films that drew the attention of Hollywood. Legendary producer David O. Selznick brought Hitchcock to America, where their first collaboration was an adaptation of Daphne du Maurier's gothic mystery, Rebecca (1940; screening on Sunday 29th July) starring Joan Fontaine and Laurence Olivier. Hitchcock would return home to direct three features over the course of his career (with 1972's nasty serial killer film, Frenzy being the most notable) but it's the Hollywood films that he would direct over the next four decades which are the best known, and the focus of FACT's summer retrospective.
Again and again, Hitchcock delighted in placing ordinary people in extraordinary situations: throwing them into the midst of a espionage drama, confronting them with a murder or coupling them up with a romantic partner who isn't all they seem. Along these lines, many of the director's films fall under the category of "wrong man" thrillers. Films in which the protagonist is mistaken for a criminal, spy or other ne'er-do-well. It's the most famous of these films — North By Northwest — which opens FACT's season on Sunday 8th July. A fleet-footed and impeccably staged action-adventure, the film stars Cary Grant as a debonair Manhattan ad-man who is, in a case of mistaken identity, pursued across the country by a group of shadowy agents.
Grant was a frequent collaborator, lending his talents to four of Hitchcock's films in total — the same number as the director's other favourite leading man: James Stewart. FACT include two of the Hitchcock-Stewart films in their retrospective, both of them macabre thrillers which are, in large part, about the dark art of cinema. Stewart is a wheelchair-bound photographer in Rear Window (1954; screening on Sunday 15th July). He's left with nothing to do but gaze out of his window at his neighbours — one of whom may have committed a murder. On Sunday 12th August, Stewart stars as an ex-detective charged with following an old friend's wife in the film Sight and Sound deemed the greatest of all time, Vertigo (1958). Woozy and off-kilter, this tricky tale of lust, obsession and control is as much autocritique as anything else.
Screening on Sunday 22nd July, Strangers on a Train (1951) provides further evidence of Hitchcock's masterful ability to spin heart-pounding suspense from the flimsiest of scenarios. The idea: two strangers meet on a train where it is proposed that they commit two perfect murders, each killing the individual responsible for the other's problems — one stranger thinks the conversation is a joke, the other is deadly serious. Of course, FACT weren't going to omit the director's most famous film, and fans can also catch Psycho (1960) on Sunday 5th August. Endlessly influential and tirelessly parodied, this big screen showing should provide viewers with the chance to once again submerge themselves in its heady atmosphere and indulge themselves in Bernard Herrmann's thunderous score.