Sof'ya Shpurova: Low Human Activity at The Holden Gallery
Sara Jaspan, Exhibitions Editor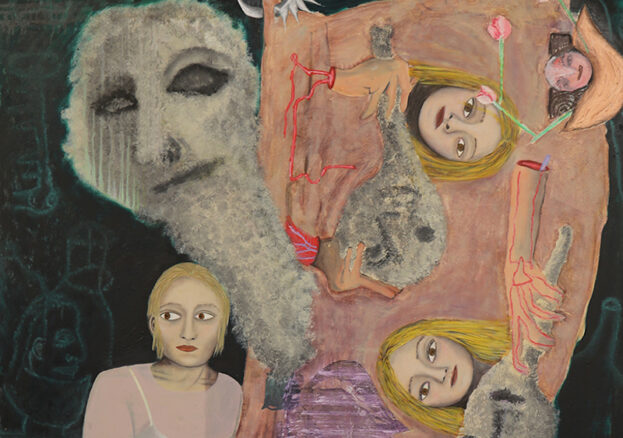 Fresh out of the Slade School of Fine Art, Sof'ya Shpurova creates large, highly idiosyncratic paintings with long, cryptic titles and complex layers of dream-like personal symbolism. She often features as a central figure within each composition, always with the same haunting eyes and expressionless face – gazing out at the viewer from an intensely personal inner world of combined mysticism and absurdism.
Her work is highly influenced by her Russian heritage, especially the historical icon paintings that her mother used to collect countless postcard reproductions of, and which accumulated in piles in Shpurova's bedroom in Moscow. She compares her interest in the genre to that of an archaeologist, fascinated by the double history of the faded images of even older works that have heard countless prayers over the years.
The passage of time is an important theme within Shpurova's practice more broadly, with recent paintings taking up to a year to complete, and sometimes developing out of earlier pieces that she repeatedly reworks. As old paintings transform into new ones, her ceramic sculptures likewise connect to the alchemic transformational properties of clay and sit alongside her canvases as if having spilled straight from them, forming an expanded world of strange characters.
Low Human Activity at The Holden Gallery is the artist's first solo presentation and will feature new work created especially for the show. With a title which she intends to imply "a painful awareness of being human and also an irreverent insult to the act of painting," Shpurova's Manchester debut should be well worth catching.