Ruskin, Turner and The Storm Cloud at Abbot Hall Art Gallery
Sara Jaspan, Exhibitions Editor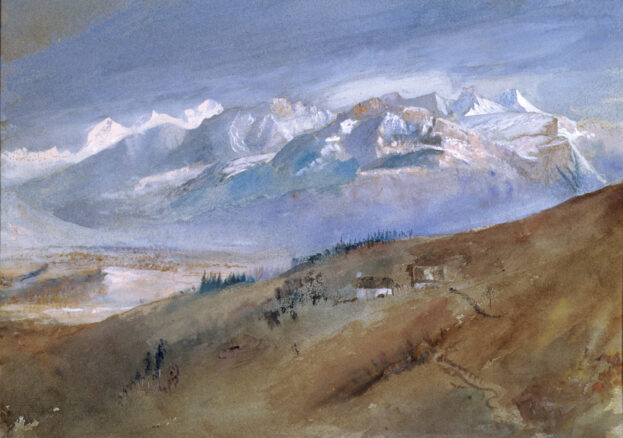 Featuring over 100 paintings spanning five galleries, Ruskin, Turner & the Storm Cloud opens this summer at Abbot Hall Art Gallery in celebration of the 200-year-anniversary of the leading Victorian art critic, draughtsman and watercolourist John Ruskin's birth. Presented within the surrounding setting of the Lake District – where he spent the last 28 years of his life and drew much inspiration – the landmark exhibition offers a rare opportunity to view an extensive collection of Ruskin's artistic output alongside that of his chief artistic hero, the pioneering Romanticist J. M. W. Turner, whom he famously described as 'the greatest of the age'.
Both Ruskin and Turner were deeply inspired by the dramatic qualities of the British and alpine landscapes, and Ruskin often wrote in particular about Turner's ability to capture the "truth of skies." Skies became an increasingly important motif for Ruskin too, providing a language through which to express his ongoing struggles with mental health – represented in the exhibition through a series of works on loan from National Portrait Gallery – and to discuss his growing concerns around climate change. The exhibition takes its title from his 1884 lecture series, The Storm-Cloud of the Nineteenth-Century, which describe the apparent effects of industrialisation on weather patterns and foreshadow the spiralling environmental concerns of the present.
Ruskin, Turner & the Storm Cloud will also feature a new series of large-scale works by contemporary artist and Royal Academician Emma Stibbon, which are both inspired by Ruskin's and Turner's visits to the Alps, and intended as a response to the increasingly alarming impact of climate change upon the world today. Perhaps one of the great Romantic artists of today, Stibbon's contribution to the exhibition should be well worth a visit alone.
Team your trip to Abbot Hall Art Gallery with a stop at the nearby Ruskin Museum and Brantwood – Ruskin's former home which has now been lovingly transformed into a museum. Or check out our guides to the best galleries, museums, restaurants, literary places and music venues in Cumbria for other recommendations.