Refuge: The Art of Belonging at Abbot Hall Art Gallery
Sara Jaspan, Exhibitions Editor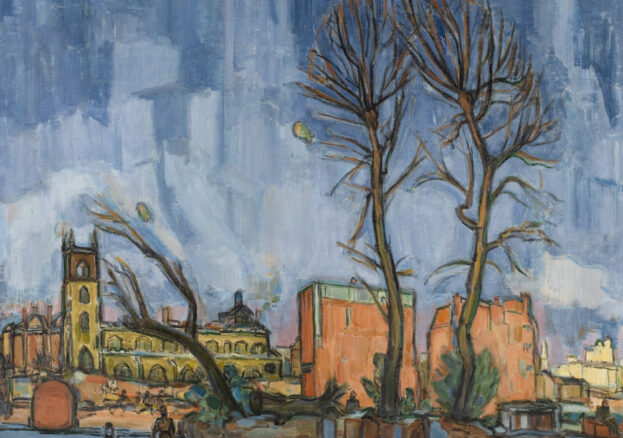 Today, Lucian Freud is considered by many to be one of the greatest British artists of the 20th century. But the grandson of Sigmund Freud began life in Germany where, aged nine, he recalls passing Adolph Hitler in the street and taking a photograph – fascinated by how "really very small" the man was. He arrived in the UK with his family in 1933 as a refugee after his uncle became one of the first victims of the growing anti-Semitic power. His four great-aunts all died in the concentration camps.
Freud is just one of a series of influential artists who fortunately managed to escape the tyranny of the Nazi Party by seeking shelter in other countries across Europe and America. Today, as part of the nationwide 'Insiders/Outsider' arts festival celebrating refugees from Nazi Europe and their contribution to British culture, Abbot Hall Art Gallery in Cumbria presents Refuge: The Art of Belonging. Spanning three galleries, the exhibition features work by numerous major artists of the period – including Kurt Schwitters, Hilde Goldschmidt, Hans Coper, Lucie Rie, Lucian Freud, and Frank Auerbach – highlighting their personal experiences of migration and resettlement in Britain.
Abbot Hall has a particular connection with Schwitters and Goldschmidt who both moved to the Lake District during the Second World War and were inspired by the surrounding landscape, as well as each other. Upon first arriving in Britain, Schwitters was initially among one of the many refugees deemed 'enemy aliens', however, and interned by the state at the Hutchinson Camp on the Isle of Man (known as the 'Artist Camp'). It was here that he made sculptures out of leftover porridge, as well as a series of portraits included in Refuge.
Schwitters was labelled a 'degenerate artist' by the Nazis, along with many others including the Jewish/Polish painter Jankel Adler who also features within the exhibition. Alder experienced persecution by the Nazi regime first-hand. He died in Wiltshire in 1949 shortly after learning that all nine of his siblings had died during the Holocaust and that his application for British citizenship had been rejected.
Though focused on the WWII period, 'Insiders/Outsiders' is described by its Creative Director Monica Bohm-Duchen as a "celebration of the contribution that refugees past and present make to British culture." In a time of rising antisemitism across England and Europe, this deeply prescient exhibition serves as a vital reminder of the significance behind the common proverb: 'Those who do not learn from history are doomed to repeat it'.