Patrick – Streaming On Demand
Tom Grieve, Cinema Editor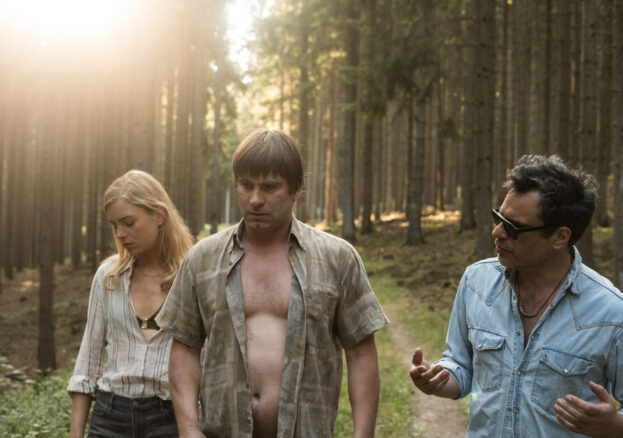 A remote family-run naturist resort might sound like ideal grounds for comedy, but director Tim Mielants doesn't succumb to the temptation of cheap laughs, at least not exclusively, in this dark, painfully funny new film from Belgium. Patrick follows its eponymous hero (Kevin Janssens), an amatuer carpenter, handyman and oddball 38-year-old live-at-home son of campsite owners, Nelly (Katelijne Damen) and Rudy (Josse De Pauw), as he suffers with his grief following twin losses: of his father, and a beloved hammer.
It's the missing hammer that provides the narrative drive here. A discontinued model that leaves a hole in a set, Patrick — wearing nothing but an open shirt — relentlessly interrogates naked guests as he follows clues from caravan to tent to tree stump, with a hangdog expression and increasing sense of despair. Added intrigue comes courtesy of extra-marital shenanigans, campsite politics and an attempted coup. Meanwhile, a break-in that looks to have been carried out with the absent hammer sends Patrick on an ill-advised warpath.
Patrick marks Mielants' — who has worked extensively in television drama — first foray into feature filmmaking. Working from a script co-written with Benjamin Sprengers, the result is a delightfully deadpan, existentially fraught comedy. It's handsome to look at too, with cinematographer Frank van den Eeden's hilariously precise framing source of additional snickering. Flight of the Conchords fans will also appreciate the appearance of actor and band member Jermaine Clement, who bolsters proceedings in a supporting role as a preening rock star on holiday with his long-suffering girlfriend (Hannah Hoekstra).
Patrick is available to stream in conjunction with your local independent cinema, including HOME in Manchester. 50% of all revenue will be shared with the venue.