Mogul Mowgli – Streaming on BFI Player
Tom Grieve, Cinema Editor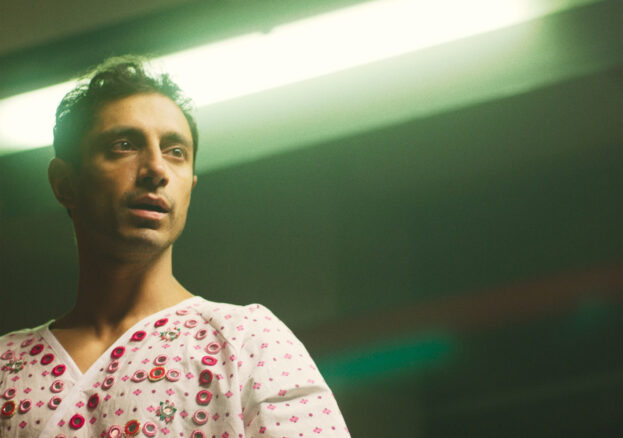 Riz Ahmed stars as Zed, an emerging British Pakistani rapper returning home from a two year long tour in Mogul Mowgli, the second feature film from director Bassam Tariq. Flying back to London from New York and fresh from a break-up with his American girlfriend, Mogul Mowgli finds Zed on the cusp of big things, as he takes a breather ahead of a supporting role on a new global tour that he hopes will launch his career on the world stage. But Zed collapses while smoking weed with a overzealous fan in an alley behind his mosque and is rushed to hospital for a series of tests.
Filmed from a script co-written by Ahmed and his director, Mogul Mowgli proceeds into nightmarish, hallucinatory territory as Zed is diagnosed with a degenerative muscular condition and prescribed experimental therapy that risks making him infertile. Meanwhile, his career comes under threat as his management team propose replacing him on tour with RPG, a cartoonish younger rival whose hit song is titled "Pussy Fried Chicken".
The film interrogates the generational divide between Zed and his immigrant parents, using Qawwali music and masked apparitions to visualise the traumas of Partition that linger, unspoken in the background of their relationship. Zed is an agile, spritely performer, with probing verses about race, identity and belonging, but it is his illness and the care that it requires that forces his family to properly reckon with each other. Tariq and Ahmed's work is sharp, astute and evocative.