Manchester and District Walkers (MAD Walkers)
Carmel Smickersgill, Tours & Activities Editor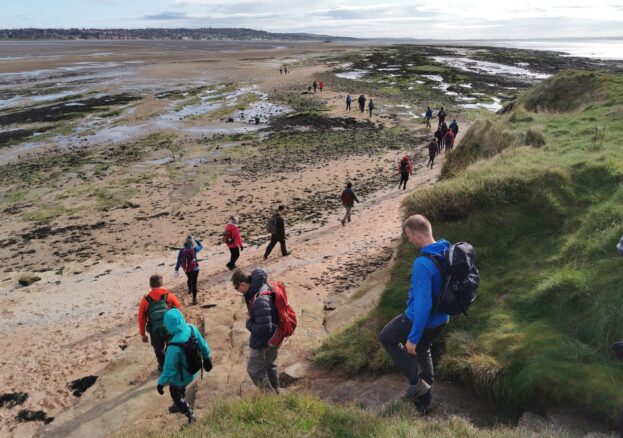 Manchester and District Walkers, also known as MAD Walkers, are a group of hiking enthusiasts running regular walks in Manchester and the surrounding area. Taking groups into Edale and the Peaks, they are aimed at walkers in their 20s and 30s, but have a relaxed attitude towards membership. Anyone who is properly equipped and physically able is welcome to ramble along.
Every weekend, volunteers lead walks around Edale and the Peaks to explore the likes of Kinder Scout and Mam Tor. They also travel further afield, taking in rambles across the Fylde Coast, Yorkshire Dales and The Lake District – all usually accessible via public transport. If you prefer to keep it more urban, some members lead walks out from Manchester city centre, venturing out as far out as Altrincham and exploring canals and urban nature spots.
In accordance with government guidelines, walking groups are currently limited to six people and this means that Manchester and District Walkers are having to prioritise members, but for only £40 you can sign up for a year and join the club. MAD Walkers welcomes prospective new members and you can try as many as 3 walks or socials before joining the group through the Ramblers Association. With these new limits on numbers, there has been an increase in the demand for volunteer hike leaders, so if you're someone with the knowledge or like the idea of leading a group, then get involved.
Occasionally there are walks with a particular focus, for example, photography walks which take in famous beauty spots and go at a slower pace allowing you to pause for the perfect shot. In the summer there is also the odd weekday evening walk too. No matter the walk or the place, the group always puts an emphasis on safety, so if you turn up with the wrong footwear or unprepared for the terrain and weather conditions, you may be turned away.
Regardless of what the weather is doing, getting out into the hills and walking is amazing for your mental health. With the social aspect of a walking group combined with some top quality endorphins, walking could be the antidote for the lockdown hangover.
As well as hiking, Manchester and District Walkers have a very active social schedule. Even throughout lockdown they have been running online charity quizzes, cook-alongs and synchronised takeaways. For someone new to the city or individuals who are feeling isolated, this welcoming, large and varied community gives you the chance to venture beyond your usual surroundings, socially and geographically. There is also monthly social at the Knott Bar which welcomes new members.
Having started in 2004, the group has grown from strength to strength and have recently played a part in the Don't Lose Your Way campaign. A mission to map every path in Britain before it becomes lost and no longer accessible to the public.
Booking a place on a walk is essential at the moment so that numbers can be kept within social distancing guidelines. Every walk begins from a different location and at a different time so be sure to check the MAD Walkers website for exact dates, times and locations.