Leeds West Indian Carnival 2023
Carmel Smickersgill, Tours & Activities Editor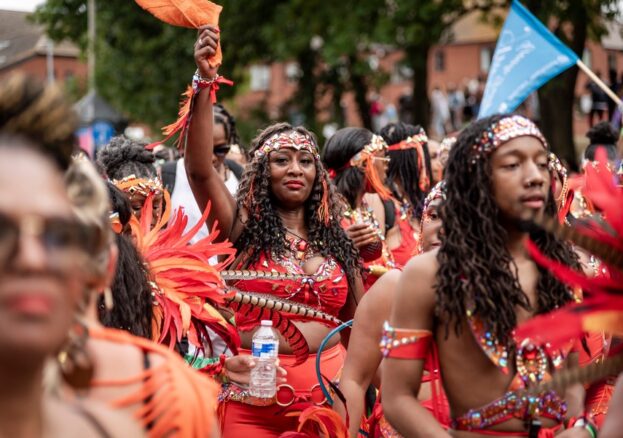 Carnival is one of the most colourful, delicious and dance fuelled events in Leeds' cultural calendar. This yearly celebration of heritage, culture and community is over 50 years old and has gone through many evolutions. Since the first Leeds Carnival in 1967, it has overcome establishment setbacks, doubt from within the community and survived political and economic uncertainty to bring one of the brightest and loudest celebrations in the city back every year.
While you're in Potternewton Park dancing to the sound systems blasting soca music, enjoying the incredible jerk chicken and fully surrendering yourself to the general mood of partying, it's vitally important to remember where this event comes from. Carnivals are a centuries old  tradition that spans across caribbean and african culture. They are an expression of art, music, political views and culture, but the genesis of carnival is steeped in the liberation and emancipation of a people who knew the cruelty of slavery. When asked about the context behind Leeds carnival, founding member and chairperson Arthur France quoted his hero Malcolm X, "If you don't know, I'll tell you. If you've forgotten, I'll remind you".
Over the weekend there is an expertly curated line up of music as well as the hotly anticipated parade. This takes place during the day and is the fundamental image that comes to mind when thinking of what carnival is. Costumes which people have worked on all year round are dance, wheel and bounce along the street while trucks carry steel pan bands and DJs that keep the party going. Each troop has a theme and tells a story through costume and dance. Some take inspiration from nature, some from spirituality and some from the countries that people have moved from to Leeds.
Carnival is a large scale event with a community focused heart. You can find pop up events throughout the city over the summer, building up to the big events in that last weekend of the summer. It welcomes everyone to share in beautiful traditions and just have a good time.