Jurassic Trail 2 in Leeds City Centre
Carmel Smickersgill, Tours & Activities Editor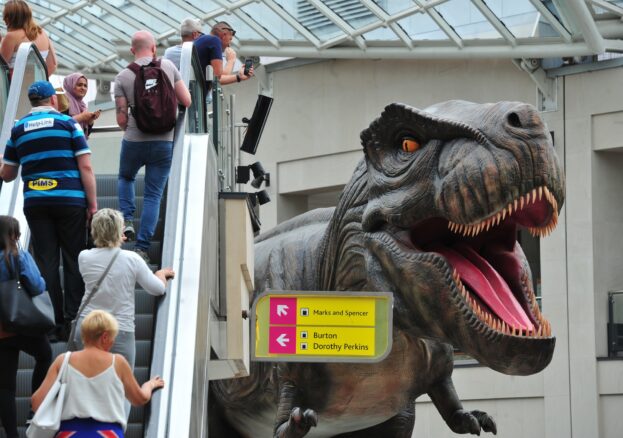 This Summer Leeds city centre is becoming home to an unlikely crowd of reptiles. The Jurassic Trail is a collection of lifesize Dinosaurs, which will lead you through some of the city's main shopping hubs. Visit throughout the summer to embark on the hunt for Allosaurus, Baryonyx, Velociraptors and the slightly less scientifically based Yorkshiresaurus.
The full list of locations and dinosaurs can be found on the Jurassic Trail website. Some of the highlights include a Stegosaurus family in the Merrion Centre, a Diplodocus the size of two double decker busses on Briggate and flying Pteranodons in Victoria Gate. The gigantic animatronic dinos move, roar and feel as close to a real Jurassic world as we can get. There's plenty of ways to learn about each dino on the trail, but you can easily access the info through the app. In it, you can view a map of the locations and information about each dinosaur, including where they lived, what they ate and what their idiomatic features were used for.
the undeniably loveable, Yorkshiresaurus Rex
The exception to these genuine fossils from our planet's past, is the undeniably loveable, Yorkshiresaurus Rex. This imagined dinosaur was the design of Keera Turner, a 14 year old student from Wakefield. There's no confusing this Dino's region of origin, from the rhubarb tail to the 'Y' shaped spine the Yorkshiresaurus Rex is a native for sure. You can find it in Kirkgate Market and may even hear it roar with a slightly different accent to the other reptiles.
After finding all the Dinosaurs, you can visit the Jurassic trail store in Leeds Trinity to pick up special merchandise from this unique event.