All Ages Sewing Workshops at Sew Creative
Carmel Smickersgill, Tours & Activities Editor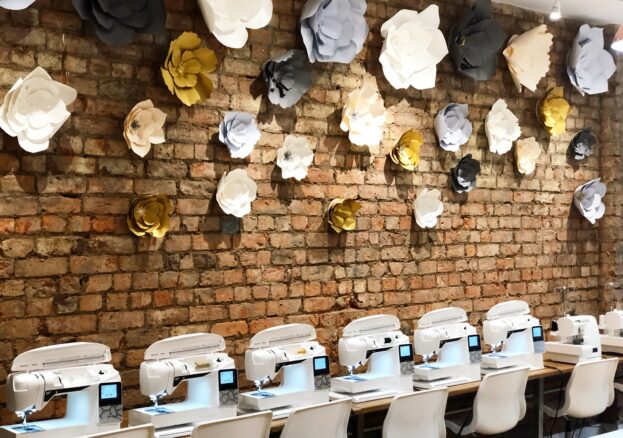 Since the wild success of programmes such as The Great British Sewing Bee, more and more people have been taking up the challenge of making their own clothes. With the disposable nature of fast fashion becoming frowned upon, no high street shop can match the sense of achievement and pride experienced when you wear your own creations. Whether you've been sewing all your life or are terrified at the thought of putting foot to pedal, Sew Creative's sewing classes are the perfect place to undertake whatever project you can imagine.
work at your own speed, there's no rush to finish a garment
The classes are free sew, meaning that you can make any project of your choice rather than following a specific pattern or design. With the guidance of Kate Proctor, and her team of very capable sewers, you'll be able to tackle ambitious projects which might seem impossible. You will also have Sew Creatives bountiful wall of fabrics to choose from to make your project with. In the classes you'll be encouraged to work at your own speed, there's no rush to finish a garment in a set amount of hours or weeks.
On weekdays there are adult sessions in the daytime, followed by after school classes for children and high school aged teenagers. Later in the evening there are additional adult classes with a sewing social on Thursdays. These social's are a chance for you to share projects and get to know some of the other sewers in your area.
Sew Creative also welcomes parties. A sewing party could make for an awesome alternative Hen Party or be the spark that inspires a child to take up a new hobby.
One of the highlights in Sew Creative's calendar is their fashion weeks. Intensive week courses for budding fashion designers. Over the course, they make their own garments, upcycle old items and finish the week with a fashion show celebrating their work.
Call into Sew Creative to find out more and explore their fabric collection.