Infinite Football – Streaming on Curzon Home Cinema
Tom Grieve, Cinema Editor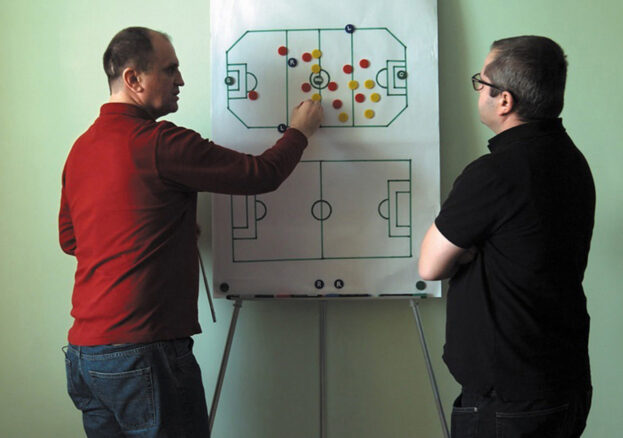 Football has returned (and looks set to not go away again for at least a year!) with changes: extra substitutes, no handshakes etc. However, it is likely that nobody at FIFA is considering the kind of radical rule changes dreamed up by government bureaucrat Laurențiu Ginghină in the new film from Romanian director Corneliu Porumboiu (Police, adjective). Octagonal pitches, sub-teams and increasingly segmented playing areas feature in Ginghină's plans for the beautiful game — all dreamed up in response to a debilitating injury suffered on the pitch in his student days.
The film unfurls through several long interviews in which Ginghină tells Porumboiu about his injury, his repeatedly thwarted dreams of moving to the USA, Romania's accession to the EU, and, of course, his ideas for improving football — most of which revolve around an obsession with an abstract idea of "the ball being free." But, as we see when an amateur seven-a-side match tries to play by his rules, freeing the ball mostly involves restricting the players.
At one point Ginghină half-jokingly compares himself to a superhero: bureaucrat by day, sporting revolutionary by night. For Ginghină, accidents happen because of faulty rules. He wants to change the world and to do that, all he needs to do is change the rules. Porumboiu pushes and interrogates his subject, arguing for the individual, grace and the sheer delight of mercurial football. It boils down to perspective and personal philosophy – what do you value, and why?
As the title suggests, and as with the actual game, there are endless ways to watch Infinite Football. It's possible to psychoanalyse its subject, interrogate the geopolitical questions it raises, or just ponder the nuts-and-bolts of the suggested amendments to the rules of football.  So many of us missed live sport for a few months, Porumboiu's deceptively straightforward film helps illuminate just what makes it so easy to obsess over.