Huma Bhabha: Against Time at BALTIC, Gateshead
Sara Jaspan, Exhibitions Editor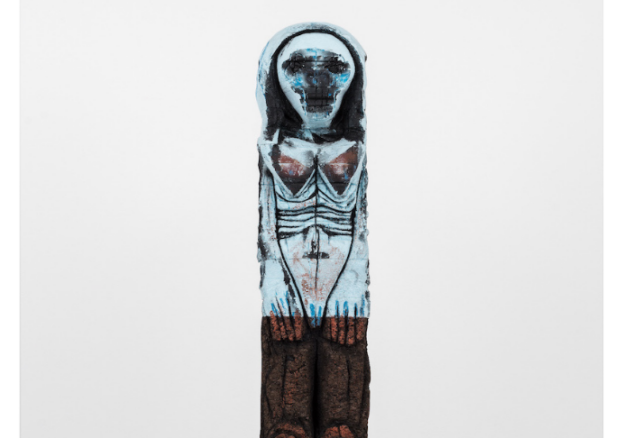 Huma Bhabha's figurative sculptures have the appearance of strange creatures that have arrived on Earth from elsewhere. Yet they also carry some deeply recognisable quality, as if formed from the very cloth of human history and culture; born from a place outside of time. Typically assembled from a combination of cork, Styrofoam and clay, as well as discarded materials such as rubber tires, chicken wire and animal bones, their physical composition is as diverse as the broad range of cultural influences from which they are hewn, from ancient Egyptian statuary, African art, Classicalism, Cubism and German Expressionism to science fiction and horror films.
Now, members of this distinct family of 'characters' (as Bhabha describes them) are about to assemble at BALTIC in Gateshead for what marks the Karachi-born, New York based artist's first major survey exhibition in Europe, spanning the last 20 years of her career. Here, they will be presented alongside a selection of her photographs, collages, prints and drawings, which point to the important themes of colonialism, war, displacement, identity and memory that Bhabha's practice addresses. Inspired by her return visits to Pakistan, these expressive works on paper show traces of ruined, abandoned or undeveloped places, reflected in the half-exposed, dismembered or crumbling make-up of their sculptural counterparts.
For those who may have encountered the artist's towering public realm commission, Receiver, outside Country Hall in Wakefield at Yorkshire Sculpture International 2019, Against Time at BALTIC marks an exciting opportunity to explore the breadth of Bhabha's work up close and in greater depth. Yet, as its alluring title indicates, the exhibition also offers more than this – a chance to take a step back, perhaps, from the embroiled details of our present and consider the human condition in a broader sense, whilst remaining engaged with the realities of our time.