Graft at PS Mirabel
Christopher Patrick Connolly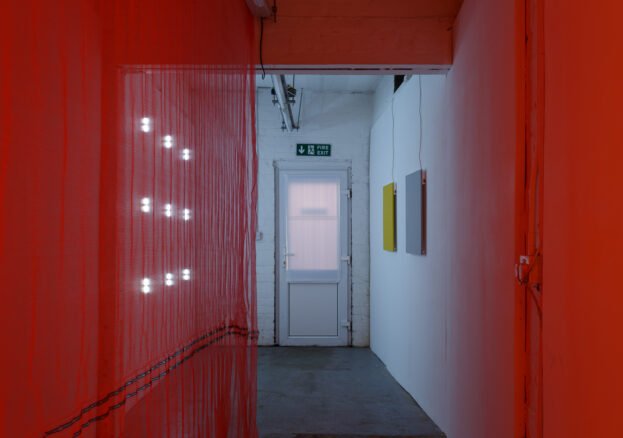 Artists Holly Rowan Hesson and Rowan Eastwood use their first joint exhibition to explore and expand their both similar and contrasting stylistic approaches, bringing them together to elevate each other's work in Graft at PS Mirabel. The two Manchester-based artists share interests in materials and responding to site, all on display to the public in this strictly site-specific exhibition.
Where Hesson's work is concerned with the actual fragility and transience of what seems solid, weighty and permanent – both physically and also in the way things are perceived – Eastwood's work focuses more on the evolution of the viewer's engagement, working to grasp the attention through playful, relatable means. The artists' works also sit in companionship through the way they've been brought together: when viewing one aspect of the exhibition you will be able to feel the influence of another elsewhere, making it a seamless experience.
Exhibiting nationally over the past four years, Hesson uses her own visual language and formal concerns around abstraction to create multi-layered, sculpture-based and installation work. Her meticulous process-led approach is contradicted by how much room there seems to be for intuitiveness, meaning although the process is full of thought, the outcome can vary and surprise.
After setting up Depot Art Studios with three others in 2015, Eastwood focused on minor alterations within everyday environments. Using various materials, her works develop and progress with external influences, like time, allowing the piece to evolve with little influence from the artist. The final outcome can be viewed as a documentation of a prior process, or a piece which may continue to evolve with its exhibition.
As you walk in, you'll be welcomed, literally, by warmth and light from Eastwood's Sense and HPA pieces, which use heated panels and motion sensor lights, before the many complexities of Hesson's Division and Control trap you and keep you in the somewhat disorientating but inquisitive space.
Graft will be open 11am-5pm on Saturdays (25 February to 1 April) at the artist-led PS Mirabel at Miracle Studios, an intriguing mixing pot of contemporary artistic expression – and just a short walk from Victoria station.