Evil Dead Marathon at Stockport Plaza
Tom Grieve, Cinema Editor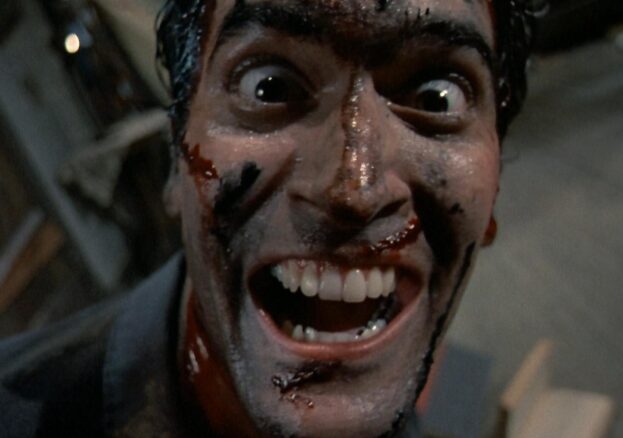 The team at Grimm Up North return to Stockport Plaza with another all day marathon screening set to delight horror fans. These endurance events inevitably bring out the best in moviegoers, who bond over their commitment to a shared interest and increasingly numb behinds. This time around, it's the Evil Dead film series that gets the marathon treatment at Stockport's fabulous Grade II listed art deco venue.
The four-film event starts with Sam Raimi's original 1981 The Evil Dead, a grisly, super-effective cabin in the woods horror filmed on a shoestring. A true cult classic, the film introduced audiences to Ash Williams – the series' protagonist played by cult icon Bruce Campbell – and laid out the mythology of the demon summoning Book of the Dead.
Naturally, Grimm follow the first instalment with Evil Dead II and second sequel Army of Darkness – over the course of which Ash gains a chainsaw in place of a hand and finds himself transported to England circa the Middle Ages. While the final film in the marathon takes things back to the where they began with 2013 reboot Evil Dead, in which director Fede Álvarez reimagines the intimate terror of the original film.
A short train ride from Manchester city centre, architects perhaps weren't imagining Sam Raimi's brand of bloody carnage when they were designing Stockport Plaza. Nevertheless, there are few more compelling spaces to watch films in the North West. As usual, Grimm Up North will come prepared with a merchandise stall and we hear there's even some Bruce Campbell signed goodies up for grabs.