Banana Hill with Auntie Flo at Soup Kitchen
Philip K Marzouk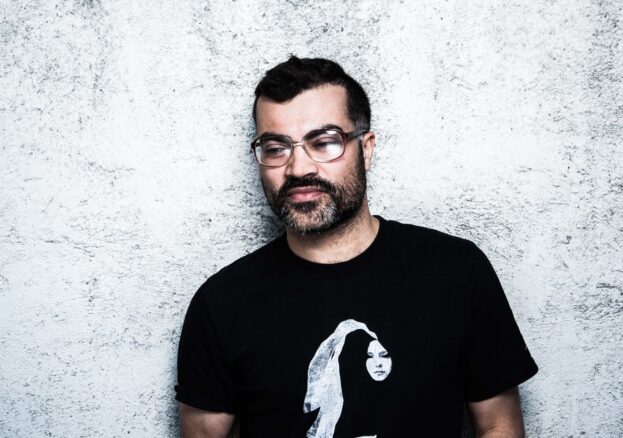 2018 has seen Auntie Flo take his signature sound around the globe in a schedule that even Phileas Fog would find intimidating. Starting the year in Mexico, he has been seemingly content to play a show at every possible latitude, and now we at 53o N have the privilege. His music exemplifies his global appreciation, blending instrumentation and rhythms from all corners. It's impossible to pin him down to a genre, leading him to self-style as an 'afro-futurist'.
Seven years in the making, Auntie Flo has released his follow-up to 2012's Future Rhythm Machine, Radio Highlife; a clear love letter to his global influences. The album expertly darts from the infectious house track 'Nobody Said It Would Be Easy', to the desert rock of 'Cape Town Jam', to the snake charming of 'Kampala'; afro-futurism indeed. In this live show, he'll be joined by his brand new band consisting of vocalist and percussionist Mame nDiack of the stellar album closer 'Mame's Story', and Yohan Kebede on keys.
It's no wonder that this album comes to us from Gilles Peterson's eclectic label Brownswood Recordings. On a label that homes Skinny Pelembe, Zara MacFarlane and Troumaca it's no small feat that Auntie Flo manages to carve a singular niche, leading him to have a monthly residency on Worldwide FM. This man will never want for work.
Hosting the night are Banana Hill, a duo who have established themselves as a household name on the club circuit, earning spots on Gilles Peterson's Top 10 Club Nights in 2015 and 2016. It follows that a night famous for its diversity and eclectic range would host Auntie Flo at the top of the bill. However, they are not merely hosts – Cervo, one of the founding members of Banana Hill, will be taking to the decks with his signature afrocentric house cuts. You'll not want for grooves.
He'll be playing alongside Banana Hill favourite and resident SNO who'll be bringing her seemingly endless Mary Poppins bag of deep cuts to the night. Originally from Bophelong, South Africa, she is well known in Manchester for her eclectic, rare grooves and infectious spirit behind the decks with mixes that are crafted so expertly they're essentially academic.
Finally, they've seen fit to book Manchester resident Alex Zalewska in support. Having moved here from London, she brings mixes spanning eras and genres, blending hip hop, jazz fusion, funk and afrobeat with dexterity. A perfect supplement to this night's genre spanning ethos.
To you eclectic movers and shakers, this is not to be missed.