Stop Making Sense – Streaming on BFI Player
Tom Grieve, Cinema Editor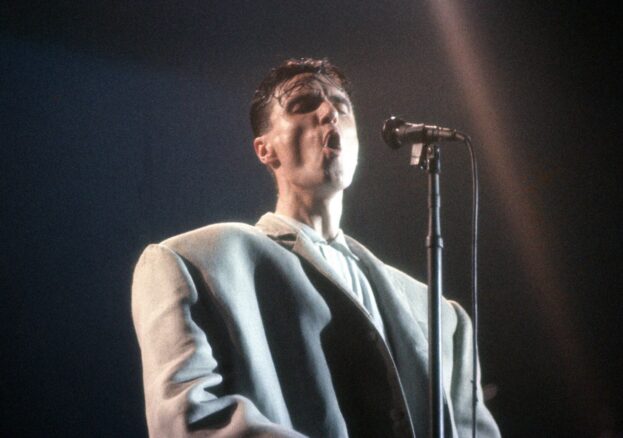 Made in 1984, Stop Making Sense, the iconic, high-energy concert film from director Jonathan Demme and Talking Heads, opens inconspicuously. Talking Heads lead singer David Byrne walks out on stage alone, boombox in hand, hits play and starts singing the band's 'Psycho Killer'. He's joined by bass player Tina Weymouth for 'Heaven' while a drum kit is rolled on stage. Song-by-song the band emerges, joined by backup singers, Edna Holt and Lynn Mabry – by the time we reach 'Burning Down The House' around a third of the way in, it becomes clear just why this concert film is held in such high regard.
Jonathan Demme is one of cinema's great humanists. The director of Something Wild and Rachel's Getting Married has frequently incorporated dance and musical interludes into his films – moments of joy and release that are both separate from and the point of his work. In the outré, jerky movements of David Byrne, Talking Heads and guests musicians, Demme finds the perfect subjects, as he captures the trance-like bliss of performance, holding the camera back to revel in the on-stage interactions, building to something approaching rapture.
Even those not yet acquainted with the film are likely to be aware of Byrne's outsized business suit. Inspired by Japanese Noh theatre, Bynre said, "I wanted to make my head smaller and the easiest way to do this was to make my body bigger." It's appearance in the final act marks another gear-shift, and the knowing smiles of Byrne's bandmates are infectious, as the film's warmth bubbles up and flows right out of the screen.
There are few close-ups and shots of the crowd are mostly left for the finale but screenings of Stop Making Sense have been known to develop into stand-on-your-chair sing-a-longs. It helps of course that Talking Heads have a seemingly endless supply of hits, and the concert is built in such a way that even watching at home it's hard not to bop along by the time 'Burning Down The House' kicks in. Stop Making Sense has a reputation as the greatest concert film of all time for a reason — with venues closed, why settle for less?
Stop Making Sense is available to watch on BFI Player with a subscription.