Go Out & Play. Tatton Park Biennial.
Creative Tourist
The insider guide to family holidays and things to do with kids – including this, a contemporary art event set in Tatton Park, the National Trust's most popular property
Think Manchester and the mental images you scroll through are likely to run thus: mills, rain, football, shopping (and Joy Division if you went to art school). And we'll not deny it – we have all of those things in spades. But there's more to Manchester than the northern naysayers would have you believe. Take the countryside. We've got lots of it, from the dizzy heights of Winter Hill to the country mansions that casually litter the Lancashire and Cheshire countryside like egg sarnies at a picnic.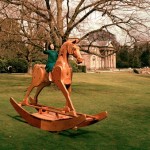 One such grand residence is the 1,000 acre Tatton Park, which this summer its second ever indoor-outdoor art event, the Tatton Park Biennial. Twenty contemporary artists and writers have created new and evolving artworks that will be shown right across the house, formal gardens and sprawling deer park. The Biennial takes Tatton's elegant Georgian mansion as its inspiration and considers the rural, historic and social landscape that surrounds it – including Breda Beban's interactive doll's house, the world's smallest cinema (a six-seater contained within a battery-powered horse trailer), a fair bit of taxidermy and Marcia Farquhar's life-size rocking horse, an enormous wooden toy apparently made for Jack & The Beanstalk's nemesis.
Elsewhere, Fiona Curran's tree house in the arboretum slowly collapses, two tons of Arctic ice keeps its cool thanks to solar power and Austin Houldsworth's 'fossilization machine' grinds out its own fossil. Surreal, thought-provoking and not without humour, the Biennial's setting within the National Trust's most popular property makes it worth the hop out of Manchester for.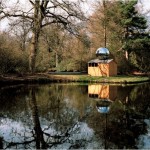 And as if that wasn't enough, consider all that comes with an art event held at Tatton: petting farm, adventure playground, miniature train, homemade ice-cream and free buses that collect tourists from Cornerhouse and deposit them at Tatton (and back) on certain weekends throughout the summer. July also sees the annual RHS Flower Show return to Tatton, a florid and very 'Cheshire' mix of traditional displays, well-dressed older ladies and contemporary garden design – it's worth going on the last day of the show as plants and displays are sold off for a song (from 4pm). As you'd expect, Tatton gets mobbed on sunny days – to avoid queuing for the car park arrive early or take the Biennial bus.
> Download Tatton Park Biennial's free guide and map to both park and artworks, or click here for more information on how to get to and around Tatton. For more free downloads, special offers and competitions visit our downloads page.
Tatton Park Biennial. Until 26 September. Prices vary. Images (top to bottom): Fiona Curran This time next year things are going to be different; Marcia Farquhar The Horse is a Noble Animal; Jem Finer Spiegelei; Helen Maurer Light Landing, photos all by Thierry Bal.
Return to the city guides home page