The Urban Weekender
Creative Tourist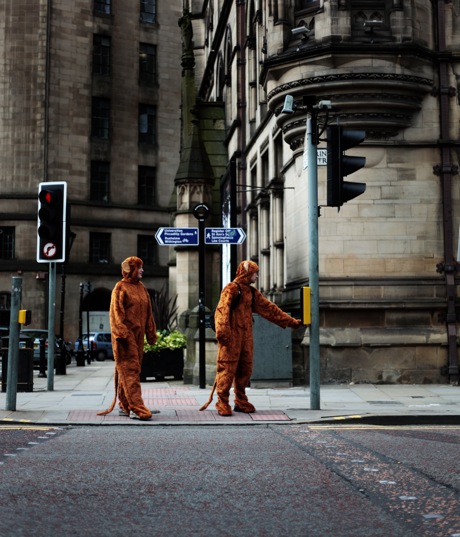 From new work from some of the world's leading artists to a band of unrepentant smokers. From 30 years' worth of videogames to art with a heart. From vintage and vinyl to rice n' three. And from eclectic eating to independent boozers: Manchester has everything you need for the perfect weekend away.
All roads lead to Manchester.
Manchester International Festival, until 19 July 2009
Jeremy Deller stands on stage at the launch of Manchester International Festival. He looks straight ahead, his eyes skimming over the assembled crowd, the bank of TV crews at the back, the photographers and journalists snapping and scribbling. 'For me, for some time, all roads have been leading to Manchester,' he says. 'I have been so inspired by the industrial and, more recently, the musical history of the town.' He goes on to describe his new work for the Festival: a procession along Deansgate, more 'northern social surrealism' than social realism. 'This procession,' he says 'is a love letter to the town.'
Deller is not the only artist to have been snared by Manchester's biennial festival: he is joined by Antony and the Johnsons, Gustav Metzger, Rufus Wainwright, Lou Reed and Laurie Anderson, Carlos Acosta and Mercury Prize winners, Elbow. All of them present new works or collaborate with unusual partners – Elbow with the 151 year-old Hallé Orchestra, for example – and all are united in their fascination of this intriguing, infuriating, post-industrial, risen-from-the-ashes city.
This summer, artists come from all over the world, and some from closer to home, to re-imagine Manchester. Kraftwerk turns the Velodrome, the home of the British Cycling Team, into a concert hall. International architect Zaha Hadid creates an acoustically perfect pod inside the main gallery space at Manchester Art Gallery – where a trio of renowned musicians will perform the works of Bach. Marina Abramovic strips the Whitworth Art Gallery bare and, in place of its outstanding collections of fine and contemporary art, curates what is being billed as 'an epic group show' of some of the world's most out-there performance artists.
'I have written more love songs to this city than I have to any woman,' says Elbow's lead singer, Guy Garvey, as, back at the Festival launch, he explains the band's decision to stage what promise to be two spectacular performances with the Hallé. 'This is our love song not just to Manchester but to welcome all the people who come here for the Festival.'
Come to Manchester, then. Fall in love. You'll find yourself in good company.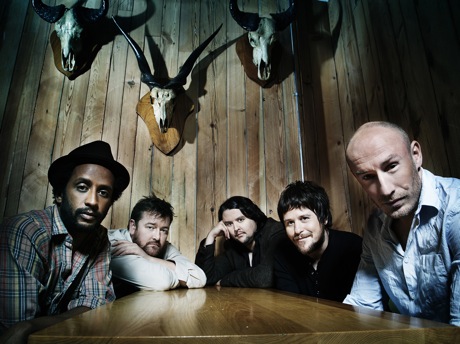 Until 23 August. Free entry.
A band of unrepentant smokers, taking long defiant drags. Hearses whose flower-filled tributes spell out the names of much-loved (now closed) shops. Marching bands, rose queens and processional banners. These were some of the sights that greeted spectators to Jeremy Deller's Procession along Deansgate on 5 July. So you might expect that the exhibition currently on at Cornerhouse, co-curated by Deller and Salford Restoration Office, would be a simple re-hash of July's spectacle. And in some respects it is: in one room, a film of the event plays, while, upstairs, Valerie's Café, a greasy spoon that appeared in the procession, has been recreated – complete with staff serving up tea and coffee. But the exhibition goes further than documentation. 'A procession goes past you. You go past a procession. It's a completely different experience,' says curator James Hutchinson. The exhibition reflects Deller's fascination with people, their stories and how those stories play out in the public arena – the artist is perhaps best known for The Battle of Orgreave, a vivid reconstruction of one of the key battles between police and miners during the miners strike of 1984.
Procession contains some fascinating artefacts: footage of Yuri Gagarin's visit to Manchester in 1961, and a touching description written by The Guardian of the mass trespass on Kinder Scout in 1924. And there are some 'charmingly underwhelming objects', too: a plank of wood taken from a Lancashire cotton mill visited by Ghandi in 1931, for example. 'It offers an obscure, subjective and alternative history of the city,' says Hutchinson. 'There are layers and layers of stories, and we hope that people will make their own connections between the objects on display. It's an exhibition of someone – Deller's – interest in the North rather than simply an exhibition of the city. There are stories here that we hope will have resonance with everyone.'
Procession: An Exhibition, Cornerhouse (0161 200 1500). Open (galleries only): 11am-6pm Tues-Sat; 11am-8pm Thu; 2pm-6pm Sun; Closed on Mon.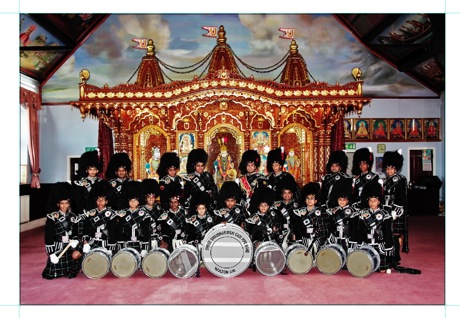 Until 20 September. Entry £3 (under 5s free).
There's more to Manchester than its International Festival. Urbis, the city's museum of urban life, features an interactive shoot-'em-up of a show that charts 30 years of British gaming, covering everything from Manic Miner to Grand Theft Auto. Videogame Nation examines, in depth and with a fair amount of joystick-waggling, the culture and sub-culture of this most addictive of indoor pursuits. Videogames have infiltrated every aspect of urban culture, from the corporate giants falling over themselves to get into Second Life to happy families whiling away the weekend playing on their Wii. And yet how much do we really know about gaming? How has it grown from the solitary pursuit of the 1970s into the global industry it is today? Videogame Nation is a chance to find out. 100% interactive, the show lets you play forgotten gems such as Jet Set Willy and Sensible World of Soccer, reminds you of recent classics such as Tomb Raider, and illustrates why Grand Theft Auto has become one of entertainment's biggest British exports. It moves from the arcades of the 80s to the mobile devices and online games of today, as well as delving into the underbelly of the industry. Videogame Nation traces the collective imagination of a nation gripped by gaming – and is a blast for both novices and pros alike.
Urbis, Cathedral Gardens M4 3BG (0161 605 8200). Open: 10am-6pm daily.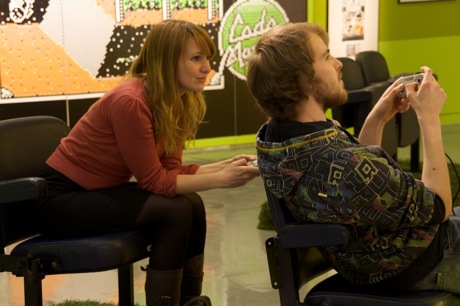 'One for the tech-head kids. Manchester's magnificent Urbis provides the perfect arena for this attempt to afford British videogaming some proper cultural credibility without spoiling its street-level urban spark.' Robert Clark, The Guardian
Vinyl and vintage: boutique shopping.
One of the good things about Urbis is its location: slap bang in the middle of the city, it's a stone's throw from the high end shopping of Selfridges and Harvey Nichols. But it's also close to boutique heaven: the tiny shops of the Northern Quarter that peddle everything from vinyl to vintage. The Northern Quarter is a world away from the brasher glass-and-steel shops of the city centre. Here, narrow streets are dominated by charmingly down-at-heel 18th and 19th century warehouses, many of which are now home to Manchester's best boutiques. Some have been scrubbed up (such as the building that houses Odd bar), while others are falling into disrepair. At the heart of the area sits the Neo-Romanesque façade of the former Smithfield Market, whose sister building, now the Craft & Design Centre, can be found on Oak Street. Stock up on vintage threads in Rags to Bitches or check out the Chinese Arts Centre, a RIBA award winning gem that's home to both a tea house and a fine selection of contemporary Chinese art.
We recommend: Manchester's Craft & Design Centre is the home of dozens of designer-makers who sell jewellery, accessories, photography, painting and contemporary artwork. The Centre can be found in a listed Victorian building (a former fish market, but don't let that put you off). Around its glass-topped atrium cluster two floors of shops and studios – many traders sell direct from their workshops. Changing exhibitions throughout the year present work from recent graduates and emerging talent. There's also a cute café that sells hearty cakes and sandwiches. Craft & Design Centre, 17 Oak Street M4 5JD (0161 832 4274).
We recommend: What's not to like about Rags to Bitches? Alongside a fabulous collection of vintage womenswear (from the 1920s to the 1980s), there's a stock of own-label clothing created by the Rags to Bitches team and its up-and-coming young designers. This bespoke line uses vintage patterns as a starting point for unique (and often one-off) contemporary pieces. But the real joy of Rags to Bitches comes from the way it's run. Time Out described the shop as 'decorated like a Victorian jewellery box', while owners Flic and Simon go out of their way to make shoppers feel at home. Occasional fairy cakes, clothes swap parties, disco nights, dressmaking courses, tarot readings and possibly the sweetest 'corporate' blog we've ever read all make this a shop with, well, personality. Rags to Bitches, 60 Tib Street M4 1LG (0161 835 9265).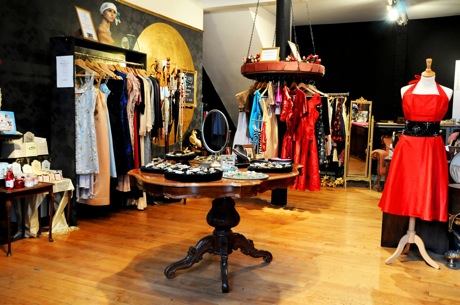 'There is a real thirst and interest for longer lasting garments and one-off outfits. People seem to be getting over the whole Primark thing where everyone ends up looking exactly the same. Where previously we've been speeding towards the computer age, we seem to be returning back to things that last and what we feel comfortable with.' Flic Everett, co-owner of Rags to Bitches
Gustav Metzger, The Whitworth Art Gallery. From 15 August. Free entry.
If the sun shines (it has been known in Manchester), head for the Whitworth Art Gallery. Right at the top of Oxford Road, in the heart of the university district, this gallery has steadily been making a name for itself on the international art circuit. It is playing a major role in this year's International Festival (hosting Marina Abramovic Presents) and has just welcomed a new commission into its grounds – Flailing Trees by the artist and political activist, Gustav Metzger. This outdoor sculpture features 21 upended willow trees, their tops buried in concrete and their exposed roots pointing to the sky. It's a challenging work but also hauntingly beautiful. Metzger subverts the natural order of things: instead of leaves and branches swaying in a summer breeze, we are instead confronted by the trees' slowly dying roots – Metzger's plea that we face up to humankind's knack of carrying out environmental destruction on a global scale. It's a sight made all the more poignant by the Victorian park setting of the Whitworth (and perhaps made more palatable by the gallery's award winning café, which, incidentally, does its bit for the environment by championing local, sustainable produce…).
Whitworth Art Gallery, Oxford Road M15 6ER (0161 275 7450). Open: 10am-5pm Mon-Sat; 12-4pm Sun.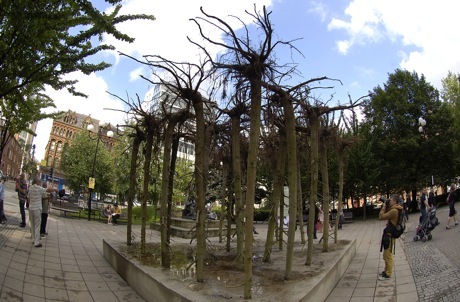 Worked up an appetite?
Food and drink in Manchester is as eclectic as its art and culture. Ranging from the curry houses of the Northern Quarter with their down-at-heel décor to the more upmarket charms of Greens and the Lime Tree in West Didsbury, there's no simple way to sum up what makes for good Manchester grub. That said, there are a few places you really shouldn't leave the city without having stopped by.
We recommend: Don't be fooled (or, in fact, put off) by appearances. Despite being stuffed down a greasy back alley that looks as if it's been witness to more than its fair share of dodgy deals, This & That is one of the city's best curry houses. Like its Northern Quarter neighbours, This & That specialises in 'rice and three' – a plate of steaming rice and your pick of three curries. The veggie versions are outstanding, while the choice of chicken and lamb dishes isn't half bad. Add in a naan, a sprinkling of fresh coriander and jug of mango lassi – all yours for around a fiver – and it makes the swift walk down that alleyway more than worth it. This & That, 3 Soap Street M4 1EX (0161 832 4971).
We recommend: If you can't face a curry, head instead for The Market. While its interior design wouldn't look out of place in your Grandma's sitting room, the food, drink and service here is among the best in Manchester. With almost 30 years under its belt, The Market has refined its Modern British cooking to near perfection. Its menu changes every six weeks or so but is consistently good, while its puddings are arguably the best in the city (the restaurant runs a regular pudding club event for the sweet of tooth: one main and five puddings for £30). The only downside to eating out here is that it's very, very hard not to overindulge. Elasticated waistbands are recommended. The Market Restaurant, 104 High Street M4 1HQ (0161 834 3743).
We recommend: British cooking can also be found in spades at Mr. Thomas's Chop House. Set in a beautiful Victorian pub, you'll have scant time to marvel at the gloriously glossy tiled floors and walls: the menu here demands your full attention. It might feature traditional dishes such as brown onion soup and black pudding hash cake (and that's just the starters), but Mr. Thomas's also makes a compelling case for vindaloo: 'Curries are as British as fish and chips and have been since the days of the Empire; ask Mrs Beeton,' says the menu. 'Or better still ask Chef Dave, whose signature dish this is. He marinades the pork loin fillet for at least 24 hours in a traditional vindaloo blend of aromatic herbs and spices – for flavour not fire.' Mr. Thomas's Chop House, Cross Street, M2 7AR (0161 832 2245).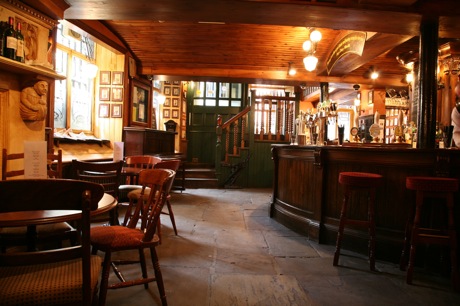 'It's popular with the suits, but welcoming to the scruffs too, and has a fabulously tiled backroom…In a world of ever-evolving café bars, this place continues to hold its head high, offering cosiness and character instead of coolness and chrome.' The Information, The Independent, reviewing Mr. Thomas's Chop House.
The city at night.
Manchester has long been known for its music and clubs but, in recent years, its after-hours scene has been boosted by the arrival of some fiercely independent bars, clubs, pubs and promoters. Predictably, the Northern Quarter is home to the vast majority, from the quirky Bay Horse to footballer's favourite, Bluu. In fact, a good night out is pretty much guaranteed if you head to Thomas Street, Tib Street and High Street, with new bars and late-night eateries opening up every few weeks or so. Outside the city centre, Chorlton is a safe bet (this Southern suburb is home to the folk-tastic Dulcimer, the eclectic Electrik bar, Proof and a soon-to-be-opened Oddest, a sister bar to the Northern Quarter's Odd).
We recommend: One of the oldest independents in the Northern Quarter, Common is run by a couple of young entrepreneurs with a knack for serving up fruity cocktails, street art (adorning the walls), live music and DJs, and a good selection of beers. It's regularly rammed – get there early. A Place Called Common, 39 Edge Street, M4 1HW (0161 832 9245).
We recommend: Slightly more grown-up, and perched at the top of Urbis, Manchester's museum of urban life, the award winning The Modern is good for views and food – ah yes, and its extensive cocktail list (arguably the best in Manchester). The Modern, Urbis M4 3BG (0161 605 8200).
We recommend: When it opened in 2008, few in Manchester knew that the Deaf Institute would overhaul the Manchester music-and-club scene in quite the way that it has. So-called by virtue of its setting (inside a former Victorian institution), the Deaf Institute's success lies in its architecture. This three-storey building comes complete with a communal café, boutique bar and a dome-shaped music hall kitted out with tiered seating and giant mirror ball. These spaces play host to an astoundingly diverse set of club, live music, literature and festival events – and make the Deaf Institute a safe bet for a good night out. The Deaf Institute, Grosvenor Street M1 7HE (0161 276 9350).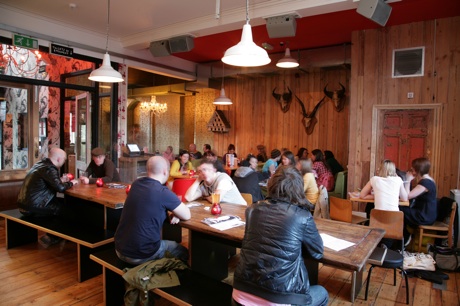 TRAVEL CHECKLIST
Hotels
City Inn: A stone's throw from Piccadilly Station and with WiFi, Sky, flexible check-in and 24-hour room service. Piccadilly Place, 1 Auburn Street M1 3DG (0161 242 1000).
Great John Street Hotel: A boutique experience, with duplex suites, roll-top baths and rooftop hot tub. Great John Street M3 4FD (0161 831 3211).
Malmaison: Top end design, service and interior and a fave with visiting celebrities – and also handily close to Piccadilly Station. Piccadilly M1 3AQ (278 1000).
Getting there
Manchester Airport (to the South of the city centre) is served by a regular rail connection to Piccadilly Station (every 15 minutes or so; journeys take around 20 minutes).
Piccadilly Station is the main railway station; the Metroshuttle operates a free bus service connecting this, and the other city railway stations, to the city centre. Buses run every 5-10 minutes.
First TransPennine Express are running a rather nifty summer for families living in the North of England – kids travel free on their trains from July 3- September 23 2009. For more details and terms and conditions, click here.
Tourist information
For all travel, hotels and tourist information, go to www.visitmanchester.com.
Once you're in Manchester, check out the Visitor Information Centre on Lloyd Street, M60 2LA (0871 222 8223). Open 10am-5.30pm Mon-Sat; 10.30am-4.30pm Sun & Bank Hols.
Main image (the one with the bears…) courtesy Tim Sinclair, Art Direction by Modern Designers.