Wonderful Town comes to, er, town. New theatre at The Lowry.
Creative Tourist
Celebrate the best of theatre in Manchester at The Lowry with Wonderful Town – and win a night in the Lowry Hotel and free tickets to see the show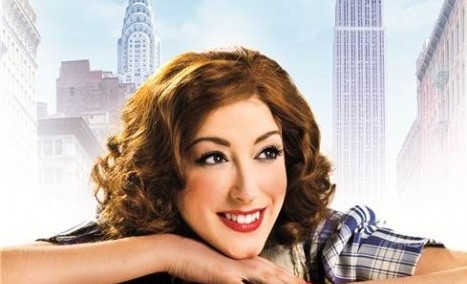 Wonderful Town is one of those gently amusing musicals that harks back to a more innocent age, one where two sisters pitch up in New York to make their fortune and manage to find romance along the way. Originally premiering in New York in 1953, the Leonard Bernstein musical has won more than its fair share of awards, and yet it hasn't been performed in the UK since 1986.
All that is about to change, as the Royal Exchange Theatre, the Hallé Orchestra (headed up by the near-legendary Sir Mark Elder) and The Lowry collaborate to bring Wonderful Town to the Salford stage. Bringing some of the best theatres in Manchester together for the first time, the show stars Connie Fisher (star of the Sound of Music), who is backed by a cast of all-round greats.
The idea of staging Bernstein's play at The Lowry came from Mark Elder, who saw it performed on Broadway in 2004 and, on his return, "harboured an ambition to put our wonderful orchestra" in the pit at The Lowry. But getting the play from Broadway to Salford wasn't all plain sailing. With three major artistic institutions involved, and a cast of solid actor-dancer-singers required, it took five years to turn Elder's idea into reality.
"Getting people good enough to act, dance and sing -" says Braham Murray, Joint Artistic Director of the Royal Exchange. "Twenty years ago you just couldn't find those people." Luckily for Murray, times have changed. He auditioned 400 dancers over a gruelling three days and "they could act and they could sing and I found I had the most fantastic ensemble," he says.
"Every single principal in the show, all twelve of them, were my first choices… This is my 71st production for the Royal Exchange and it is one of the most exciting I will ever face."
To celebrate this first ever partnering-up of the three artistic organisations, we've got together with the five-star Lowry Hotel and The Lowry to offer a night in the hotel (with brekkie), plus a pair of tickets to the press preview of the show on Wednesday 4 April. The lucky winner will also get a £30 voucher to spend on food and drinks at The Lowry.
To enter the competition, hop on over to our competitions page now. Competition closes date 26 March 2012. Wonderful Town runs 31 March-14 April 2012 at The Lowry (£26.50-£42.50) before touring across the UK. Images (top to bottom): Wonderful Town, courtesy The Lowry; The Lowry Hotel.