The best places by bike, in & around Manchester: Two wheels good
Chris Horkan
They're green, they're good for you… but if you're not sure of the best places to go by bike from Manchester, here's our handy guide.
Following recent news that this year's Great Manchester Cycle has been cancelled due to roadworks, depriving 7,000 cyclists of the chance to pedal their way around the city centre, we thought we'd put together a feature on some of the best bicycle-based days out that the area does have to offer.
With Manchester city centre short of safe, scenic cycling routes, why not hit Manchester's many canal tow paths for a traffic-free escape? For a showcase of the city's finest biking facilities, follow the Ashton Canal from Ducie Street (mere metres from Piccadilly Station) for an easy stretch of tow paths taking in mills, bridges and geese galore.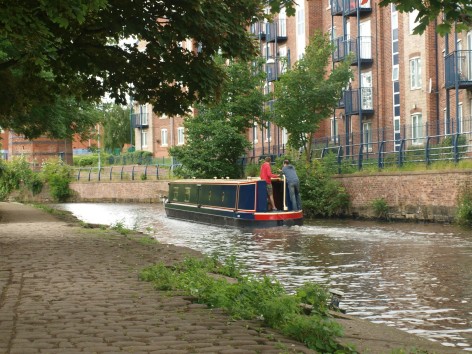 Two miles east, stop off at the National Cycling Centre – the UK's first indoor Olympic cycling track, plus a BMX centre (added in 2011) – for some inspiration, and maybe even sign up for one of the centre's one-hour track taster sessions. Bear in mind, though, that these courses are very popular and are often booked up weeks in advance. (Image above – Ashton Canal Tow Path. Photo: Roy John Kitcher)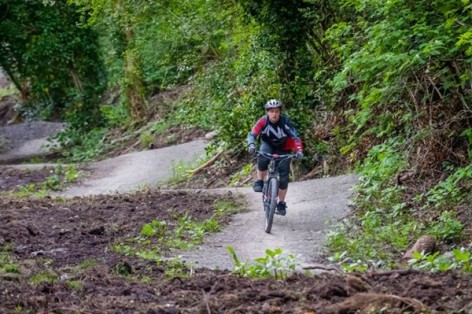 The centre also offers mountain bike sessions in the nearby Clayton Vale nature reserve, which has benefited hugely from almost £1m of investment from British Cycling, Sport England and the City Council. Entry to the park is free, and mountain bikes are available to hire from Evans Cycles at the National Cycling Centre. (Image above – Clayton Vale. Courtesy of the National Cycling Centre)
Some of the best bicycle-based days out in and around Manchester
If staying canal-side is more your thing, make a day of it by following the Ashton Canal Tow Path a further five miles to Ashton-under-Lyne, taking in Fairfield and Guide Bridge, plus the Portland Basin Museum (featuring a recreated 1920s street) and Lily's, the excellent vegetarian Indian cafe in Ashton town centre.
Full up with tasty food, you may prefer to swerve the return cycle by taking your bike on the train back to Victoria Station, 30 minutes away. Many of the region's rail operators (like Northern Rail) offer bicycle storage facilities on board at no extra charge, with space available on a first come, first served basis. Virgin Trains requires phone reservation at least a day ahead of travel, with Arriva operating a similar policy.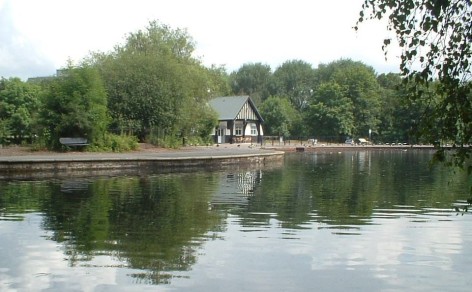 Another city-based option is to head a few miles north of Piccadilly to Boggart Hole Clough, a 190-acre park of ancient woodland in Blackley. The local nature reserve features free tennis courts and a boating lake, as well as mountain bike trails. The clough (a steep-sided, wooded valley) is reportedly haunted by a boggart, or mischievous spirit – hence then name. (Image above – Boggart Hole Clough. Image courtesy of Friends of Boggart Hole Clough)
In South Manchester, meanwhile, Chorlton Water Park is a popular retreat in the Mersey Valley, offering miles of meandering, flat (though often bumpy) paths. Combine a visit with a home game for West Didsbury & Chorlton AFC, established over 100 years ago and relocated to the edge of the water park in 1997. The team, who play in the ninth tier of English football, boast a passionate following on the terraces, including from Manchester band Dutch Uncles who recently sponsored a game.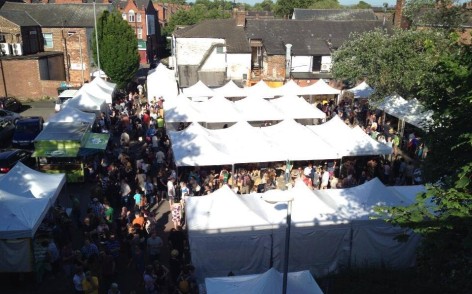 The water park also provides a starting point for the 6.5 mile-long Fallowfield Loop, which runs through to Gorton's Debdale Park in East Manchester. The route takes advantage of former railway lines to offer a pleasant, traffic-free, paved track, lined by trees and plants – perfect for a spot of fruit and elderflower foraging. Stop off in Levenshulme for the suburb's independent market every Saturday, or get lost in the maze-like Antiques Village. Then continue east along the loop, with a short detour to Shores Fold Community Farm, before ending in the 130-acre green oasis of Debdale Park, which features a bowling green and two reservoirs for fishing. (Image above – Levenshulme Market)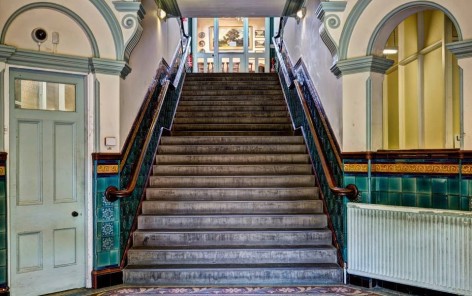 Out in Cheshire, the Manchester Airport Orbital provides eight miles of mostly off-road tracks (best suited to hybrid or mountain bikes) that take in the Aviation Viewing Park and tunnels under the airport's runways. There are riverside bridleways and Styal Country Park along the route, as well as the option to detour to the The Courtyard in Knutsford for the UK's only penny farthing museum – plus afternoon tea or a Sunday roast. (Image above – Levenshulme Antiques Village)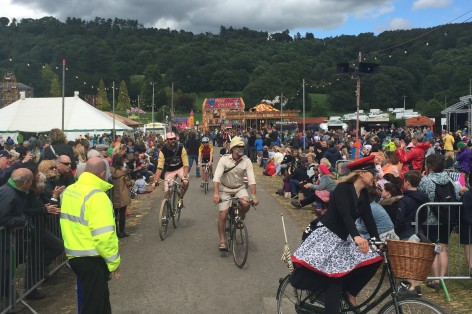 Farther afield, the Peak District boasts some of the country's best cycle-friendly days out – with Eroica Britannia, Bakewell's three-day celebration of cycling, one highlight of the annual calendar. The award-winning, family-friendly event, which takes place every June, culminates in 'the Ride', featuring almost 4,000 cyclists racing on pre-1987 bikes. Eroica Britannia offers camping and glamping accommodation – although a one-day visit is equally rewarding, whether you're racing or simply absorbing the velo-love. (Image above – Eroica Britannia. Photo: Chris Horkan)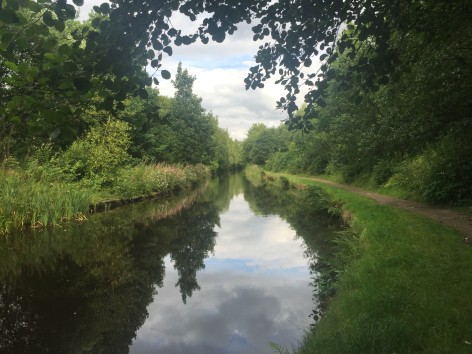 For a more DIY cycling adventure in the Peaks, take your bike to Marsden (32 minutes from Victoria), and head east along the canal towards Huddersfield. Soon, you'll stumble upon the disused Sparth Reservoir – the perfect spot for a quick wild swim – while, further down the path, the co-operative Handmade Bakery in neighbouring Upper Mills offers another picturesque stopping off point, complete with airy cafe and a terrace overlooking the canal. When you've had your fill of pedaling, simply hop on the Transpennine Express and find yourself back in the city before dark. (Image above – Huddersfield Narrow Canal. Photo: Chris Horkan)
For cycling maps, events and news, visit TfGM Cycling, Sustrans and the Greater Manchester Cycling Campaign.