Salford Rocks. Sounds from the Other City returns.
Matthew Britton
Music blogger Matthew Britton gears up for Sounds from the Other City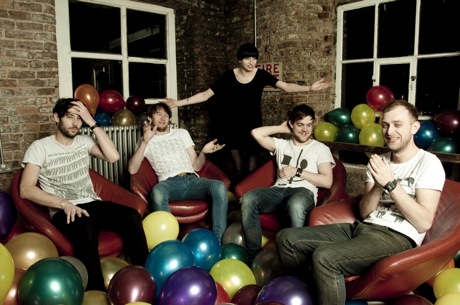 The north has always been comparatively short on music festivals, but Manchester's not doing too badly for itself. DPercussion lasted a decade, in which time it managed to promote many of the region's best new talents. The MAPS Festival started just a year after DPercussion folded and has been going strong ever since. From 30 April  to 3 May, this self professed 'Northern Quarter Festival' promises to bring its usual brilliance to the area. Not content with taking over many of Manchester's bars and cafés, last year's edition offered bright sparks from the worlds of art, music and poetry the chance to have an audience in a Hilton Street launderette.
Just down the road, Salford is running its own party. The Bank Holiday weekend will see the best new talents hit the city for Sounds from the Other City's sixth incarnation. Previous years have acted as a springboard for bands such as The Ting Tings and Marina and the Diamonds, long before Radio 1 and mainstream ubiquity. This year looks set to be the biggest and most exciting edition yet.
With each festival venue curated by a different set of local taste-makers, bands perform to the kind of people who really care, alongside acts with a similar ethos. Lamb and Wolf's club space at Islington Mill has one of the heavier line-ups. Bo Ningen and Klaus Kinski have been getting crowds around the world in a bother, whilst Glasgow's Divorce are singlehandedly beating out an entire new genre of their own, whittling the remains of thrash into something phenomenal. Headliners Chrome Hoof have delighted critics and audiences across the board with their experimental orchestral brilliance.
Based on their current ascent, plucky Manchester foursome Egyptian Hip Hop will be on every page of the NME by 2011, having quickly become the magazine's favourite new act. They'll be sharing the stage of The Old Pint Pot with the high flying MAY68 (pictured) and the otherworldly, heavy pop playing WU LYF, who are certainly only days away from being chart toppers.
With Help Stamp Out Loneliness, bloggers' favourites The Lovely Eggs, and Windmill playing the basement at the same time, it's easy to imagine where most of the hipsters will find themselves, but that's far from the full picture. Cardiff's SWN and Hey! Manchester are jointly taking over St. Phil's Church, with performers to match the ornate surroundings. The haunting vocals of Tom Waits favourite, Jesca Hoop could scarcely find a more suitable home.
A few hundred metres away, meanwhile, the bizarre and brilliant Levenshulme Bicycle Orchestra will be mixing music and performance art at The Salvation Army, while The Angel Centre will provide the setting for a mixed collection of acts, from the stripped down excellence of Hotpants Romance to Waiters' eternally catchy brand of popular music. If that sounds a little bit too organised for you, fledgling video-channel Manchester Scenewipe will be continuing its good work by taking to the streets to provide secret shows with secret acts. Stay alert.
For your £15 ticket you also get entry into some phenomenal clubnights – the perennially cool Now Wave relocates to The Old Pint Pot to team up with Bring on the Dancing Horses, whilst Pull Yourself Together takes a break from making Manchester's best 'zine to help Underachievers Please Try Harder on the decks downstairs. Elsewhere, there's everything from Stop Making Sense to Contort Yourself and the promise of a late license to ensure your dancing shoes are thoroughly worn out by Monday morning.
As the big summer festivals hike up the prices to pay for stars who couldn't care less, there's scarcely been a better time for fans of independent and unsigned acts. Whether you've heard the bands at Sounds from the Other City or not is irrelevant: good music is always good music. The amazing thing is how ridiculously talented the acts are – Kelpe sounds like a super-producer in waiting, dropping electronic trip-hop beats that make Portishead sound their age; Islet are everything that's been great about the last two years of underground music rolled into one; and Dutch Uncles make indie pop so sickly sweet that it's practically a miracle they're not already on every teenager's iPod. DPercussion might be dead, but good new music certainly isn't.
Sounds from the Other City, May 2, 3pm – 3am, various venues in Salford. £15 adv. Full details on the website. MAPS Festival, 30 April – 3 May, venues around the Northern Quarter, £20 adv for full festival pass. Full details on the website. Matthew Britton lives in Manchester and writes The Pigeon Post, a blog about music. Listen to Matthew's SFTOC mixtape here! Follow Matthew on Twitter @thepigeonpostΩ Image: MAY68.