Concerts in Manchester: Manchester Camerata 40th Anniversary
Kate Feld
Classical music concerts don't get much better than this: the Rainy City's celebrated chamber orchestra hits a musical milestone.
In any other town, the 40-year-old Manchester Camerata might be considered reasonably venerable, but not here – Manchester also happens to be home to The Hallé (est. 1858) and The BBC Philharmonic (est. 1922). You can imagine that it might be hard to make yourself heard over the big noise of those two well-established orchestras, but over the last four decades the Camerata has carved out its own well-deserved following by performing a consistently great programme of chamber music at its home at RNCM supplemented by an engaging schedule of one-offs, collaborations and series.
More recently, the arrival of charismatic music director Gabor Takács-Nagy seems to have given the Camerata a renewed energy and vigour. So this autumn is a great time to celebrate one of the treasures of northern music, and the new season's programme provides an extra treat in a trio of concerts focusing on Mozart's Piano Concertos.  On 13 October, Francesco Piemontesi performs Concerto No. 20 in D Minor, in a programme that also includes works by Holst Elgar and Haydn. The second concert in the series features Ingrid Fliter playing the popular Concerto No. 23, along with works from Vaughan-Williams, Elgar and Haydn on 24 November, and then at the opposite end of the season, Ferenc Rados will perform Concerto No. 15 in a programme that also includes Shostakovich, Schnittke and Haydn on 23 April.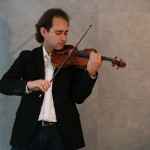 It's worth mentioning that this season sees the Camerata continuing their "Upclose" series of performances for smaller groupings of musicians in the more intimate and informal surroundings of venues such as The Deaf Institute and the International Anthony Burgess Centre. The next one is 23 October at The Deaf Institute and features a string quartet performing a programme of Beethoven and Golijov. Don't miss out.
Manchester Camerata 40th Anniversary Season, RNCM and other venues, to 18 May 2013. For  tickets and programme information, visit the Camerata's website.  Still on the hunt for good music? The BBC Philharmonic performs Mozart Piano Concerto no. 19 and Mahler's epic 5th Symphony on 12 October at Bridgewater Hall as part of The Manchester Weekender.
Words: Kate Feld. Images: (top to bottom) Gabor Takács-Nagy and The Manchester Camerata; Manchester Camerata leader Giovanni Guzzo by UKFast, both courtesy of Manchester Camerata.